Welcome to our annual list of the best electric hunting bikes of the year. With one of the widest ranges of hunting ebikes on the market, we're constantly asked what the best hunting bike is. And to that we answer: it depends. You've got to consider power, range, speed, load capacity, and your budget.
That's why we pulled out our bikes and get to work putting together our comprehensive list for the best electric hunting bikes of 2021. How?
By putting ourselves in the hunters shoes. We combined customer feedback, carrying capacity, top speed and range, build quality, and special features to choose five of our best electric hunting bikes of the year. We paid special attention to everyone's budget in mind, making sure there's a bike on here for any rider. So if you're ready for a new bike on the trail, choose from one below!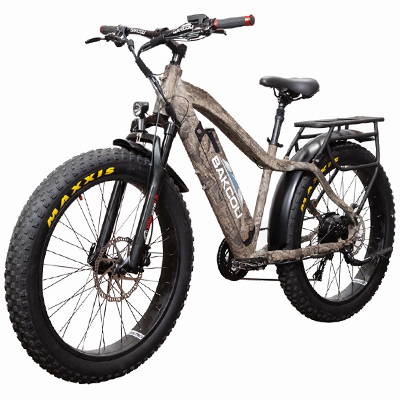 $3,298.00 ⭐⭐⭐⭐⭐ (5 Reviews)
Bakcou Flatlander Hunting eBike
When your hunts force you to ride down long, bumpy stretches of road, the Flatlander is the e-bike you want. Perfect for flat-land riding, this hunting machine is ready to get you to and from your hunting spot quickly and quietly.
The 750w Bafang read hub reaches speeds of over 35 MPH and carry up to 300 lbs. Coupled with the 5-speed pedal assist, you'll also get a range of over 40 miles to stock, kill, and take your kill back to camp safely.
And with mud guards, huge 4" wide tires, front suspension, and hydraulic disc brakes, this bike is ready for nearly any terrain you can throw at it.
✔ Top Speed of 35+ mph
✔ 40+ Mile Range
✔ Carrying Capacity of 300 LBS
✔ Recommended Game: Fish, Rabbits, Quail/Doves.
✔ Perfect for flatland riding, grassy areas, and dirt trails.
2. Best Premium Hunting E-Bike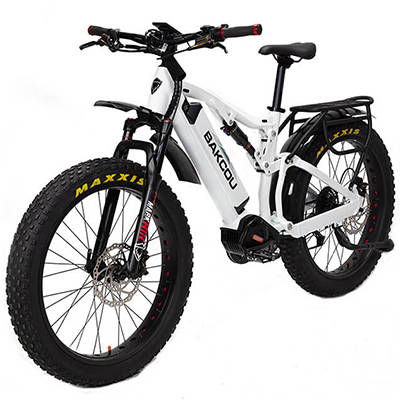 $6,198.99 ⭐⭐⭐⭐⭐ (5 Reviews)
Bakcou Storm Electric Hunting Bike
If you want a decked out bike with more than enough to climb rocky hills and cruise down steep descents, this is the electric hunting beast you've been looking for.
Complete with their patented Ultra 750w/1000w mid-drive motor, this bike can cruise up and down steep off-road trails at over 35 MPH. And with a heavy duty 6061 full suspension frame aluminum alloy frame, an on-board pannier rack, and "smart" torque sensor, you'll be able to carry 300 lbs safely to and from camp.
So if you're looking for a tank with every bell and whistle, this is the hunting ebike you need.
✔ Top Speed of Over 35 MPH
✔ 40+ Mile Range
✔ Carrying Capacity of 300 LBS
✔ Recommended Game: Turkey, Fish, Rabbit, Ducks, Quail.
✔ Ultra Motor and Torque Sensor help push up hill and pull heavy loads.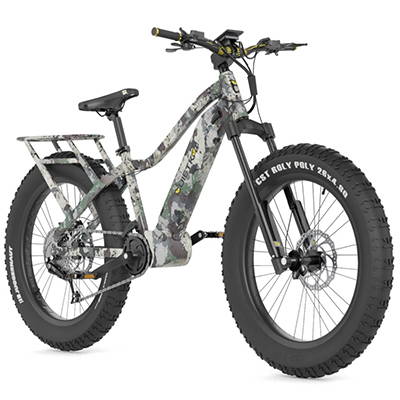 $5,199.00 ⭐⭐⭐⭐⭐ (3 Reviews)
QuietKat Apex Electric hunting Bike
Whether you need tons of torque for steep hills or tons of speed for chasing down prey, this bike has the most powerful motor in its class.
Its powerful 1500w mid-drive motor can reach speeds over 40 MPH, carry up to 325 LBS, and offers a range of up to 58 miles each charge. Backed by a SRAM 9-speed drivetrain, this bike will soar up nearly rocky hill, keep downhill speeds under control, and carry every piece of equipment and kill you want.
At the end of the day, this bike is quiet enough to catch nearly any prey, and powerful enough to take it with you.
✔ Top Speed 40+ MPH
✔ 20-50 Mile Range w/ Pedal Assist
✔ Carrying Capacity of 325 LBS
✔ Recommended Game: Large Poultry, Small Deer (w/ trailer), Fish, Ducks.
✔ Fastest, and most powerful engine in its class.
$3,799.99 ⭐⭐⭐⭐⭐ (4 Reviews)
Eunorau Specter-S Hunting eBike
When your hunts go from a 3 mile trip to a 20+ mile ride, this bike gives you the range you need to travel as far as it takes to get the kill.
Its internal and external 48V/17Ah Samsung batteries for a range of up to 80 miles: the longest range in its class. Meanwhile, the powerful 1000w Bafang G510/M620 mid-drive motor reaches speeds of 35 MPH and is capable of carrying over 300 LBS.
With 140mm suspension forks, a full suspension frame, and extra wide Kenda 26x4" wheels, you'll be able to take on any terrain and stay safe no matter how far you need to ride.
✔ Top Speed of 35 MPH
✔ Over 80 Mile Range
✔ Carrying Capacity of 300 LBS
✔ Recommended Game: Fish, Rabbit, Turkey, Quail/Doves.
✔ Perfect for long hunting trips that take you far away from camp.
5. Best Budget Hunting E-Bike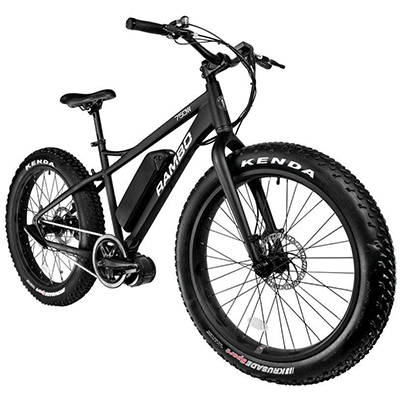 $1,999.99 ⭐⭐⭐⭐⭐ (32 Reviews)
Rambo Savage Electric hunting Bike
Looking for a cost-effective way to get into electric hunting bikes? This ebike has every quality component you need without unnecessary features driving up the cost.
With the quiet BBS02 750w mid-drive motor, you get a top speed of 19 MPH, plenty of torque, and a range of 35 miles per charge. Combined with front and rear disc brakes and double walled, extra wide tires, this bike will keep you safe on any terrain you travel down.
So if you're looking for a no-frills hunting ebike with plenty of power and quality components, this is the bike for you.
✔ Top Speed of 19 MPH
✔ 35 Mile Range
✔ Carrying Capacity of 300 LBS
✔ Recommended Game: Rabbit, Fish, Quail/Doves.
✔ Easy on the wallet without sacrificing quality.
What is an Electric Hunting Bike?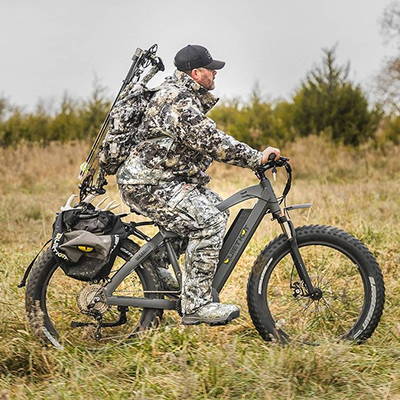 Simply put, an electric hunting bike is an electric bike that's designed specifically for hunting. While some e-bikes may be capable of going off-road- like mountain bikes- hunting bikes are made to go on all types of terrain: snow, grass, loose gravel, dirt, and rocks at various inclines.
In fact, there are three key factors that make an electric hunting bike stand apart from others:
Higher Powered Motors- Electric hunting bikes start off at nothing less than 750w, compared to others that go as low as 250w's. These bikes give you the torque, speed, and carrying power you need for hunting, not just toying around bike paths.
All Terrain Capabilities- These bikes come with huge 26x4" wheels and knobby tires that run on nearly any surface you bring to it. The width of most ebike wheels maxes out around 2.5" wide, which is nearly half the size and grip of hunting e-bikes.
Designed with Carrying Capacity in Mind- While other ebikes have designs made for simple riding, electric hunting bikes are made to haul trailers and handle the weight of your equipment on and off the trail. From heavy duty frames and components to powerful motors, these bikes are designed to pull much more weight than other ebikes.
Note: Electric hunting bikes, like all e-bikes, are considered a motorized form of travel. So please read and adhere to local laws when it comes to riding requirements, whether you're on or off road.
Why Use an Electric Hunting Bike?
There's no debating whether or not electric hunting bikes are the best forms of transport when hunting. They're the perfect blend of size, power, and accessibility you need when chasing down game or finding the right fishing spot.
Here are just a few of the reasons hunting ebikes are a must-have for any serious hunter:
Electric Hunting Bikes Significantly Lighten Your Load- Carrying cargo on a hunt is hard enough, but when add your kill on top of that, walking to and from camp is almost impossible. With a hunting ebike you'll be able to focus on the hunt and avoid using too much energy carrying heavy equipment and catches.
Electric Hunting Bikes Are Stealth- Loud noises, too much movement, and unpleasant smells (like gas and sweat) scare off your prey. With quiet, odorless motors and the ability to carry you over 20 miles without breaking a sweat, hunting ebikes help make you virtually undetectable to animals and fish.
Hunting Ebikes Cover More Ground- Without any wheels your hunt's limited to as far as you can walk to your camp. You can cover more ground with a dirt bike or ATV, but the more noise you make the further away you drive prey. With a hunting ebike you'll be able to cover more ground and locate more game than before.
And on top of all that, they're also significantly lighter and smaller than gas powered options. You can climb up hills too small for ATV's, and carry them across rivers and bridges too dangerous for dirt bikes.
So when you're ready to take your hunts to the next level without having to haul your camping accessories in big ol' vehicles, an electric hunting bike is the only choice.
Choosing the Right Electric Hunting Bike Motor
There are two main types of motors you're going to run into when looking for the perfect electric hunting bike: mid-drive motors and hub motors. Each have their advantages and disadvantages, so let's take a look into both and see which is best for your needs: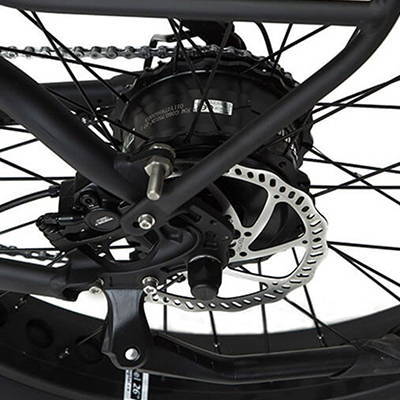 Hub drive motors operate by rotating an entire wheel via its hub. They're much less expensive to produce than mid drives, and even have better take-off's and smoother acceleration. On top of being simple to install and maintain, hub motors are independent drives which means even if you don't have a chain, the motor will still propel the bike via the throttle.
✔ Independent drive doesn't rely on chain to move bike.
✔ Easy to install and maintain- just slip a new wheel in and you're ready to ride.
X Less toque, as the cranks, chain, and gearing have little effect on ride.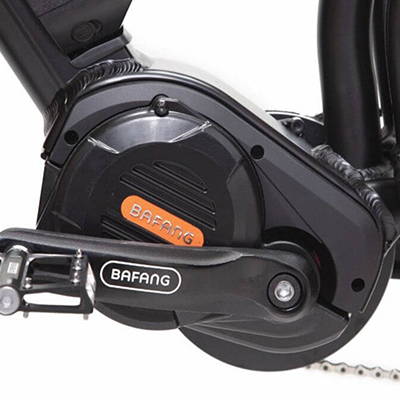 Mid drive motors operate by rotating a bike's chain from the cranks, as if you were pedaling the bike yourself. This gives them more torque and better power transfer for climbing hills and pulling heavy loads than hub motors. And with capabilities like torque sensors, these motors can make riding feel more natural and give you more control over throttle and pedal assistance.
✔ Higher torque and more evenly distributed power across the bike.
✔ Higher battery life and longer range by working in tandem with gears.
X If the chain snaps, the bike is immobile.
Choosing the Right Wattage, Voltage, and Amperage
Of all of the complicated ideas behind hunting ebikes, the surprisingly easy ones to wrap your head around are wattage, voltage, and amperage. The rule behind them can be summarized as "the more power you want, the more watts, volts, and amps you need".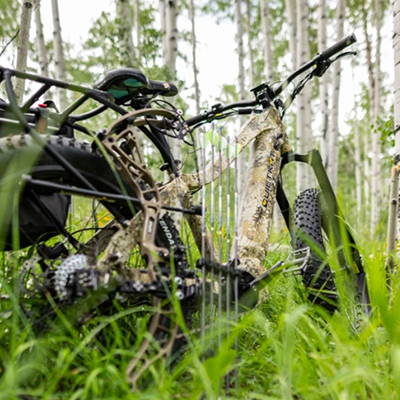 To explain this to you better, let's talk about this in terms of a car:
Think of watts like the horsepower of a car; i.e. the potential speed and torque output of a motor. The more speed or torque you want, the more wattage a motor will need to use.
Voltage is like the engine of the car, and the more horsepower you want out of a car, the bigger the engine has to be. In the same way, voltage is the amount of power a battery is able to give a motor. So the higher wattage a motor is, the higher the voltage the battery needs to be in order to give the motor what it needs to rotate at a consistent speed/power.
Your amperage can be seen as a car's gas tank, and the larger it is the more fuel it can hold for longer or harder drives. Amperage is an indication of the amount of energy a battery is capable of holding. The higher the amperage, the more energy a battery can stored for use.
So how do volts, amps, and watts work to give you an idea of the power you'll get? First, let's back up and explain how we get the ideal wattage of a battery.
Wattage is what we get when we multiply volts and amps together, expressed in the equation (Amps X Volts = Wattage). The ideal wattage a battery can handle is the watts that a battery can safely and efficiently operate at.
To give you a better picture of what we mean, let's use the Bakcou 750w Flatlander as an example. This bike has 5 batteries to choose from, so let's find their ideal wattages by multiplying amps and volts:
48v/14.5AH= 696w
48v/17.4AH= 835.2w
48v/17.5AH= 840w
48v/19.2AH= 921.6w
48v/21AH= 1008w
Now as you can see, none of these are exactly 750w's, and that will tell you all you need to know about the speed, torque, and range you're expecting out of a bike:
A motor with a wattage higher than the ideal wattage for its battery will under utilize the power of the motor while spending lots of energy to operate. This means less power output and shorter range.
A motor with a wattage at or just above the ideal wattage for its battery will utilize the motor's power to its full potential and spend a normal amount of energy to operate. This means you'll get the optimal amount of power output and range for that motor.
A motor with a wattage below the ideal wattage for its battery will utilize the motor's motor and spend less amount of energy to get it to operate. That means you'll get optimal amount of power output and longer range for that motor.
Still not clear on watts, volts, and amps? We weren't at first, either, which is why we made the video below to explain this concept visually:
Choosing the Right Electric Hunting Bike Size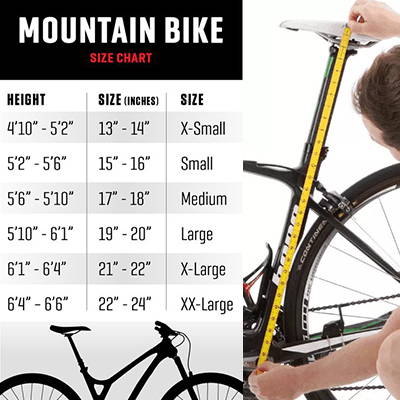 Electric hunting bikes have the same style of frames as mountain bikes. When sizing one, it's important to make sure it fits you in the same way the perfect mountain bike would.
Hunting ebikes- like mtb's- are sized by measuring the distance between the bottom bracket and the top of the seat tube. Take that size and measure your inseam, and you'll find the right size for you:
15" frames are best for riders around 5'-5'5″ tall (25" inseam)
17" frames are best for riders 5'6″ – 5'10" tall (29" inseam)
19" frames are best for riders 5'11" – 6' tall (31" inseam)
Now, we know from experience that not all riders have the same inseam, even if they're the same height. Thankfully, hunting ebike frames are more compact than other frames. They also come with seat tubes at least 2x the length of other bikes to adjust for any height, inseam, or comfort level.
In addition, are a few extra tips when it comes to sizing your next hunting ebike:
Control and comfort are key! Make sure you feel comfortable sitting up straight when riding on straight paths, and in a hunched position when riding on rough paths and standing. Remember: a frame that's too small won't be comfortable to ride, and a frame that's too tall will be nearly impossible to control.
When your feet are at their lowest point on your cranks, your legs should be at 80-85% full extension. If you extend your legs longer than that, it's a sign your bike's too tall.
While riding, your knees shouldn't go raise too much over the highest part of your top tube. If your knees come close to your arms while riding, it's a sign your bike's too small.
What makes BikeBerry different?
On top of having the widest selection of high quality, value-driven electric hunting bikes, there are three reasons hunters trust BikeBerry for their ebike needs:
We have the best tech support and customer service in the industry. While other retailers are sales-driven, service is first and foremost at BikeBerry. That's why our riding experts are versed in electric hunting bikes from head to toe, and ready to help you well after your warranty expires. So when it comes time for repairs, maintenance, or to upgrade, we'll be here to help get your ride in shape before your next hunt.
We have a bike for every hunter. We understand every hunter has different needs and different budgets. While others only offer top-tier names, we offer a wide range of big brands as well as value-driven brands. So whether you need tank with all the bells and whistles or a simple ride for your fishing trips, we've got an ebike to fit any hunter's needs.
We offer some of the fastest, easiest warranties in the industry. Other companies may offer warranties on their ebikes, but most use a 3rd party to service them, resulting in long warranty times. By working directly with our favorite brands, we are able to service warranties easily and resolve any warranty claims quickly. That way you spend more time on the hunt and less time waiting for parts (should the occasion arise).
What do real hunters have to say about these e-bikes?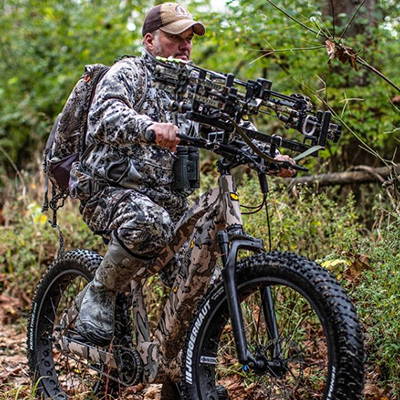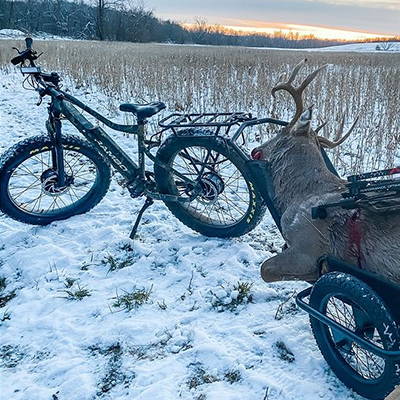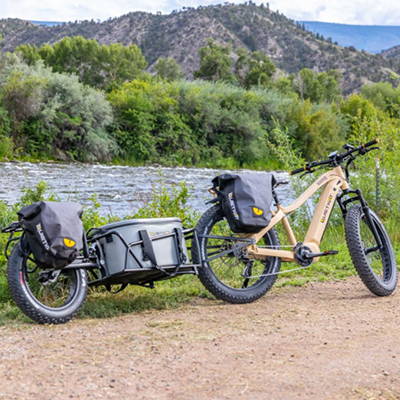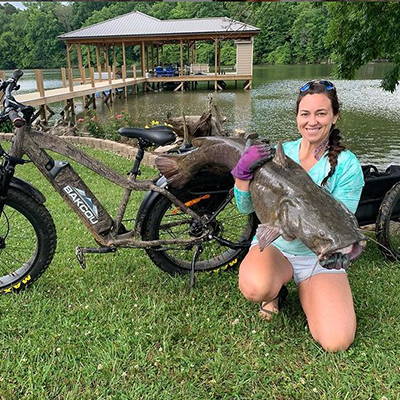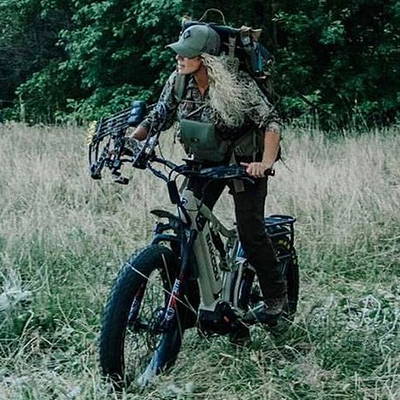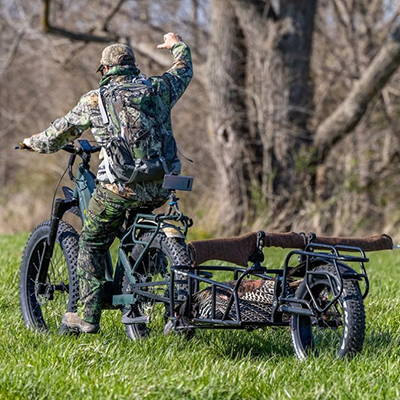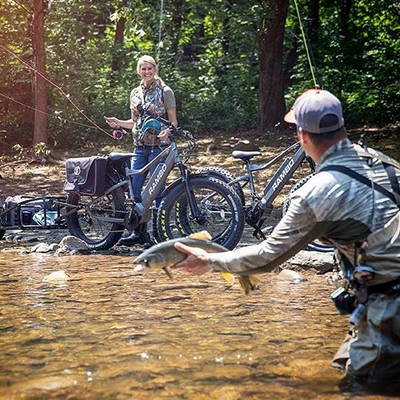 ⭐

⭐

⭐

⭐⭐ Robert C. "This bike is defiantly a Savage! *Pun intended. "
I decided to pull the trigger and get my own E-Bike and I couldn't be happier! Been riding the bike around for a few weeks now and have no complaints. Let my brother in law take it for a spin and now he's planning to get one himself.
⭐

⭐

⭐

⭐⭐ Sam E. "Powerful & Sturdy Electric Hunting Bike"
I've been riding my new 2020 Apex for about a week now, and I am very impressed the power and durability of this electric hunting bike. The BBSHD mid-motor, with its teflon rotors, is super quiet, and delivers incredible power in challenging riding conditions (rocky mud, rutted trails, etc.). It's not a cheap bike in any sense of the word. But if you are a serious hunter, like I am, then I can highly recommend the Apex by Quietkat.
⭐

⭐

⭐

⭐⭐ Tors L. "Very High Build Quality - Great Performance"
I am a stickler for quality. If I buy a product, I want it to work as it is described and I am happy to say that the Bakcou Flatlander 750W exceeded my expectations.
Frequently Asked Questions
Q: Which is the best hunting ebike?
A: We'd love to give you the magic answer, but the truth is the best electric hunting bike is the one that's best for you and your hunts. The ideal bike will fit your budget, have a comfortable ride, and give you the power and longevity you're looking for.
So when shopping for your next hunting bike, ask yourself the following questions:
What does my budget look like? Hunting ebikes range from around $1999 to $6500, and that's before we talk about add-on's like larger batteries. The more you spend the more features you'll get, but do you really need them? Spend what you need for the ride you want- no more, no less.
How much speed and power do I need? With your budget in mind, now you want to figure out how much power you want out of your bike. Remember: the more power output you need, the higher the wattage and voltage need to be.
What sort of range do I want? Once you know what sort of power you want, the next crucial step is figuring out the range you want out of your bike. Remember that the higher the amps, the larger the "gas tank", which means you'll be able to run your motor for longer.
What size frame do I need? The last crucial bridge to cross is finding the correct sized frame. Most hunting ebikes have a range of 15" (small), 17" (medium), and 19" (large) frames, so the key is make sure you get the most comfortable size that allows for the most control over your entire bike.
If you're still unsure, click here and check out our official electric bike buyer's guide.
Q: How much weight can electric hunting bikes carry?
A: Electric hunting bikes have a load capacity of 300-325 LBS. This accounts for the rider, your cargo, and your kill.
Now if you're concerned with that, keep in mind that a little more weight than recommended should also be taken into consideration. In fact, up to around 5% over recommended capacity is normal for hunting ebikes.
Trailers also help alleviate the loading capacity, which you're most likely using any ways. That means you'll be able to carry your equipment and catch without stressing about being weighed down.
Moreover, motors with torque sensors help increase towing capacity, too, helping you travel further at faster speeds without draining your battery quickly.
So don't let carrying capacity disappoint you. Just remember that the more weight you need to carry, the more torque you're going to need, which means a larger wattage motor.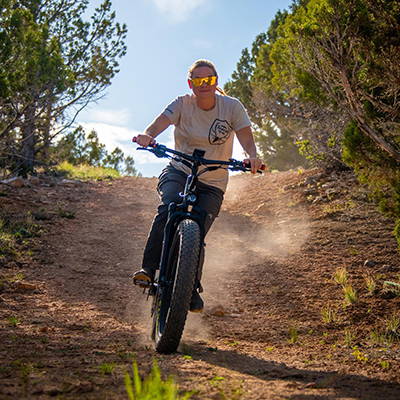 Q: How fast do electric hunting bikes go?
A: Great question! Hunting ebike motors range from 750w to 1500w, and generally they each reach the following speeds:
Of course, speeds are affected by the conditions of your ride. If your hunt is casual and flat, you should usually be getting around these speeds. But on hills, rocky terrain, or unstable terrain like mud and snow, your top speeds are naturally going to go lower.
So if your hunts get rough and you need some decent speed, always go with a stronger motor. However, if you have a calmer ride aheaf of you, your options are more open.
Q: How long can you ride a hunting ebike before recharging?
A: Generally, hunting ebikes can go anywhere between 20-50+ miles per charge.
The range of an electric hunting bike depends on four factors: the amps of your battery, the use of your throttle, the weight of your load, and pedal assistance.
The more amps a battery has, the less energy it will use to get up to the speeds you're asking. For example, a 48v21AH battery is going to have a longer range than a 48v17.5AH battery.
The more you use an electric bike's throttle, the more you're asking the motor to work. The more you rely on your throttle, the faster your motor's going to drain, thus lowering your range from its estimated range.
The more weight your motor has to carry and/or pull, the harder your motor's going to work when engaged. That's going to lower your range little by little, no matter if you're using a motorized pedal-assist or going full-throttle.
Pedal assistance is the difference between a 50 mile range and an 80+ mile range. Bikes with pedal assists can enjoy assistance when they need it, and pedal power when they don't. In fact, motors with smart sensors will help read your cadence and assist to help you pull heavy loads and go up hills without draining you or your battery.
Q: Do you have to pedal an electric hunting bike?
A: Most hunting ebikes have mechanical throttles that can run the motor independently, so you don't need to pedal them to move. However, depending on the the type of motor on your bike, pedaling may be the most beneficial thing for you. Here's why:
Increased Range- Pedaling lessens the load your motor has to carry, helping the range of your motor.
Increase Torque- On hills and rough terrain, pedaling helps give you more force than your legs and motor could independently.
Backup Propulsion- If your motor goes out, you still have your pedals as a backup way to propel your bike.
Q: What kind of warranty comes with an electric hunting bike?
A: Most hunting ebikes- including each of the bikes featured on our list- come with a minimum 1 year warranty against manufacturer defects. And because we work directly with each brand directly, all it takes to get any bike warrantied is a phone call or an email. All riders have to do is let us know the issues they're experiencing with the bike, and we'll take care of the rest from there.
Editor's note: This post was originally published in November 2018 and has been updated as of July 2021 for accuracy and comprehensiveness.