Welcome to our annual list of the best electric bike kits of the year. With over a decade in the field, we're often asked, "What's the best ebike kit is the best one for me?"
The truth is, there's a kit out there for everyone. To finding the right conversion kit for your bike, you've got to consider your desired speed, range, torque, features, ease of installation, and most important, your budget. That's where we come in.
By combining customer feedback, top speed, overall power, and best features, we found the top 5 electric bike kits of 2021. Our list has a motor for any rider and any budget, so let's dive into your options below: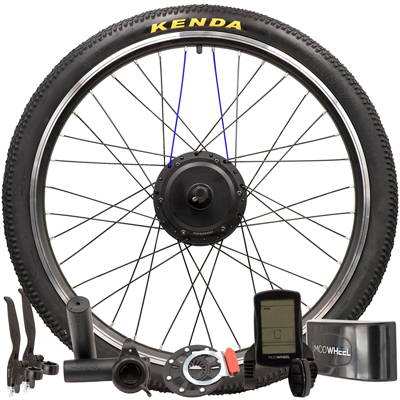 $798.95 ⭐⭐⭐⭐⭐ (7 Reviews)
36v 500w Front Wheel Electric Bike Kit
When you're looking for a kit with plenty of range, speed, and power that won't put a huge dent in your wallet, this is the electric conversion kit for you.
The 36v 500w hub motor has a top speed of 21 MPH and is geared for superior torque over direct drive motors. It also has range of 17 miles and a magnetic pedelec for pedal assistance, perfect for commutes around town or long rides down your favorite bike trail.
With an included LCD speedometer to keep an eye on speed and battery life, this kit is everything you need to recharge your old bike into a brand new ebike.
✔ Top Speed: 21 MPH
✔ Range: 17 Miles Per Charge
✔ Front Wheel Geared Motor Offers Strong Torque.
✔ Perfect blend of power, efficiency, and affordability.
✔ Powered by 36v11aH lithium-ion battery (upgradable)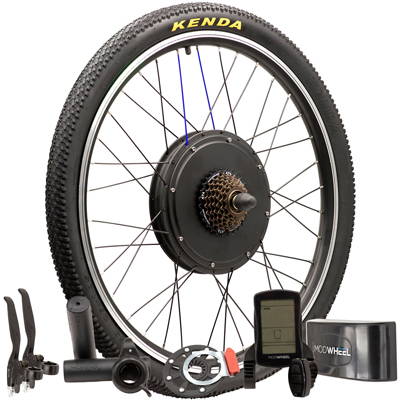 $969.90 ⭐⭐⭐⭐⭐ (8 Reviews)
48v 1000w Direct Drive 7-Spd Rear Wheel EBike Kit
If you want to turn your bike into an electrified, off-road machine, this is the kit you want.
Its 1000w rear hub motor pushes up hills and run on rough terrain at speeds of up to 28 MPH. It also offers superior torque over lower powered motors to make towing easier than ever. And because of its position on your bike, this kit gives you superior power transfer and control over your bike.
So whether you want to do some serious off-roading or you want to carry more weight on your commutes, this is electric conversion kit will give you the power and safety you need.
✔ Top Speed: 28 MPH
✔ Range: 14 Miles Per Charge
✔ Rear Wheel Direct Drive Hub Motor Offers Tons of Power.
✔ Near silent operation compared to noisier geared motors.
✔ Powered by 48v11.6aH lithium-ion battery (upgradable)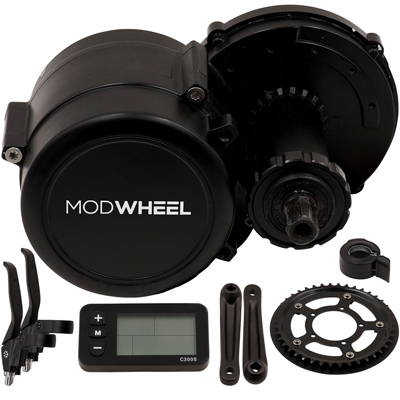 $1289.00 ⭐⭐⭐⭐⭐ (0 Reviews)
48V 500W MId Drive Electric Bike Kit
Looking for lots of torque without a huge motor on your wheel? This mid-drive kit is the ebike conversion kit you're looking for.
The 48v 500w motor operates directly off your cranks. So unlike wheel hubs, pedaling while throttling a mid drive motor will help increase torque and range. With a base cruising speed of 10 MPH and 25 mile range, pedaling allows you to reach speeds around 15 MPH with increased range, too!
This is perfect for anyone towing, climbing up hills, or just wants assistance on more taxing terrain. So if you want a more natural feel to your rides and need better torque than other 500w's can offer, this is the kit is for you.
✔ Top Speed: 15 MPH
✔ Range: 15-25 Miles Per Charge
✔ Mid Direct Drive Motor Operates via Cranks for Superior Torque and Maximum Speed.
✔ More Natural Riding Feel.
✔ Powered by 48v11.6aH lithium-ion battery (upgradable)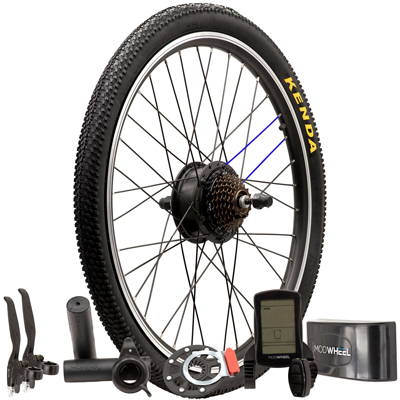 $728.95 ⭐⭐⭐⭐⭐ (10 Reviews)
36v 250w 7-Spd Rear Wheel Electric Bike Kit
When you're looking for an electric conversion kit to take you from point A to point Z and back, this is the kit you need.
The 250w geared motor gets a range of 25 miles out of each charge. Its brushless design creates no drag when the motor's disengaged, so by pedaling you can increase your range by at least 25%. By upgrading your battery you can increase that range by at least another 15%. That's roughly 35 mile range, which is significantly more than other rear wheel ebike kits.
With a cruising speed of 10 MPH, this rear wheel gives you plenty of speed and superior control over your bike for rides all around town.
✔ Top Speed: 15 MPH
✔ Range: ~35 Miles Per Charge
✔ Rear Direct Drive Motor Offers Safe Cruising Speeds.
✔ Improved power transfer and control over your bike.
✔ Powered by 36v11aH lithium-ion battery (upgradable)
$718.95 ⭐⭐⭐⭐⭐ (7 Reviews)
36v 250w Front Wheel Electric Bike Kit
Want a quick, easy way to electrify your favorite beach cruiser or mountain bike? This is the ebike conversion kit you need.
Installation is as easy as swapping out your front wheel, wiring up, and mounting the controller and battery. The electric wheel even comes with a heavy duty tire and inner tube pre-installed, helping you get riding faster.
Its 250w geared motor can reach speeds of 10-15 MPH. And because its power is easy to handle, this wheel can take turns safer than higher powered front wheels.
So whether you need a kit that's easy to install, one that's easy to handle, or both, this electric conversion kit is the one for you.
✔ Top Speed: 10-15 MPH
✔ Range: 25 Miles Per Charge
✔ Front Wheel Geared Motor Offers is the Easiest Motor to Install.
✔ Safest Front Wheel for Windy Roads.
✔ Powered by 36v11aH lithium-ion battery (upgradable)
What is an Electric Bike Kit?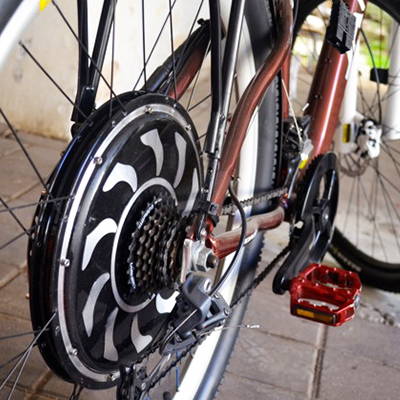 Simply put, an electric bike kit is a kit that lets you turn your regular pedal-driven bike into an electric-powered bike- or, an ebike. So instead of dropping tons on a pre-assembled ebike, you get the comfort of converting one of your favorite bikes.
But there's a little more to it than just electrifying your mountain bike or beach cruiser:
An ebike conversion kit includes an electric motor,

battery

, throttle, controller, and all necessary mounting accessories to electrify the drivetrain of a bike.

Ebike kits replace your bike's cranks, front wheel, or rear wheel depending on the type of motor you go with. You'll also be adding a battery onto your bicycle, which requires mounting ports or an additional rack.

By adding an electric bike kit to your bicycle you change the primary source of propulsion from your legs to an electric motor.

Note: Once your bicycle is equipped with an electric conversion kit, you turn it into an electric-powered vehicle. Depending on your state and local laws, riding an electric bike may fall into a grey area of bicycle and motorized vehicle. Be sure to read up on your state's electric bike laws for more information.

Why use an electric bike kit on your bike?

Whether you need a help on rough rides or you want to speed up your commutes, an ebike conversion kit is perfect for any bike rider. They're less harmful for the environment than gas engine kits, and easier to use, too.
But aside from their environmental impact and usability, there are plenty of practical reasons you should convert your bike with an ebike kit:
Assistance on Long Rides- Half the reason people stop riding their bikes is because they're afraid of riding too far and not having the energy to make it back. Electric bike kits work with you to find the sweet spot of assistance and riding. So whether you go all-throttle or pedal-assist, you can ride as far as you can and let the ebike motor help bring you home with plenty of energy.
Assistance on Rough Terrain- There are plenty of riders that can't ride off-road, on loose terrain, or up hills without overworking themselves and their bikes. With an electric bike kit you can let the motor do the heavy lifting. Using a pedelec and throttle for assistance, you won't wear down your knees or your bike's components riding on rough areas.
Complete Customization- Pre-assembled ebikes in your price range may not look the way you want, and getting a custom e-bike can be pricy. Using an ebike to convert your bike means you can build the electrified bike of your dreams.
So if you're ready to start using your bike again, make things a whole lot easier on your body with an electric bike kit.

Sizing, Compatibility, and Installation

The great thing about electric conversion kits is that they fit nearly any beach cruiser or mountain bike. No matter what bike you have, all you have to do is make sure kit you choose is compatible with your wheels and/or cranks:
The wheel that comes with hub drive motor kits should be the same size as the wheels on the bike you want to convert. For example, if you're using a bike like Switz Cruz 26" Men's Beach Cruiser Bike Bicycle, you'll need an ebike kit with a 26" wheel.

The motor that comes with mid-drive motor kits should be a size that fits flush with inside the bike's bottom bracket port. For example, if you have a 68mm bottom bracket, the mid drive motor you use should fit in a 68mm bottom bracket shell.
Now, installing each type of conversion kit will have their own challenges. Check out the installation videos of each type of ebike conversion kit to get an idea of which is works best for you:
Installing a Hub Drive Electric Conversion Kit
Installing a Mid Drive Electric Conversion Kit
Types of Electric Bike Kits

There are two main styles of ebike conversion kits out there: mid drive kits and hub drive kits. Each have their own unique advantages and challenges, so let's take a closer look into each: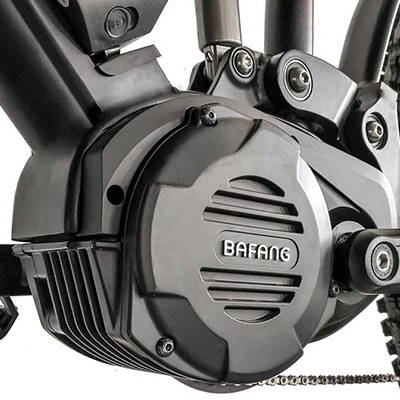 Mid drive electric bike conversion kits operate from your bicycle's cranks. In fact, the motor included with mid drive kits replaces your existing cranks. And whenever you pedal or hit the throttle, the motor rotates the chain and propels the bike forward.
✔ Superior torque to hub motors for climbing and easier riding on rough terrain.
✔ Lightweight, discreet size allows for full customization on the rest of your bike.
X Installation takes mechanical experience replacing entire crank assemblies.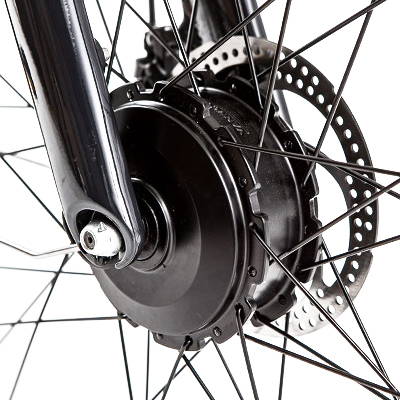 Hub drive ebike conversion kits operate from a hub in the center of the front or rear wheel of your bike. So when you hit the throttle, the motor will use its energy to move the entire wheel and push your bike forward.
✔ Better acceleration and speed than mid drives for better take-offs.
✔ Their independent drive doesn't require a chain or cranks to propel your bike.
X Hub drive motors can be heavy, adding more wear to your tubes and tires.
Types of Electric Bike Hub Motors

When it comes to electric conversion kits with hub motors, you have two styles to choose from: front wheel motors and rear wheel motor. On top of that, each type of motor comes in two types of construction: geared and direct drive.
Any given ebike conversion kit will have a combination of these traits. But don't worry, we'll take you through each to help you figure out the best motor for your bike. Let's start with
Finding the Right Electric Bike Kit for Your Needs

Now that you know what it takes to find the electric bike kit that's right for you, the next to do is get to work building. So head into your garage, find your favorite bike, and choose the best ebike kit for your needs:
If you're looking for assistance on those longer riders, go with a 250w electric bike kit.
When you want extra torque to get you up inclines easier, you'll want a 500w ebike kit.
For mountain bike and off-road bikes that need strong throttles, put a 1000w conversion kit on your bike.
Riders looking for with the most torque should use a mid drive motor.
Those looking for the the most speed should use a direct drive motor.
And of course, if you need some inspiration for the electric ride of your dream, check out our top 5 best electric bike kits above.
What do riders have to say?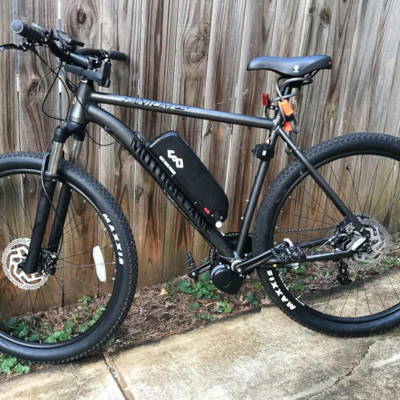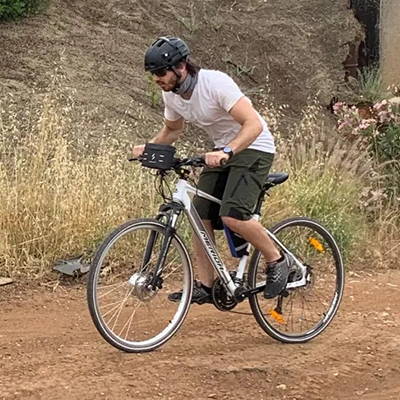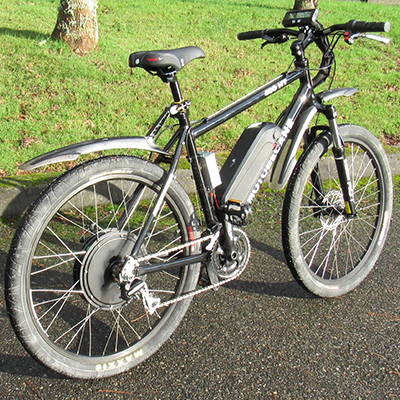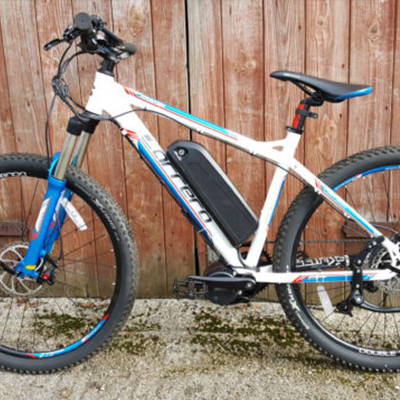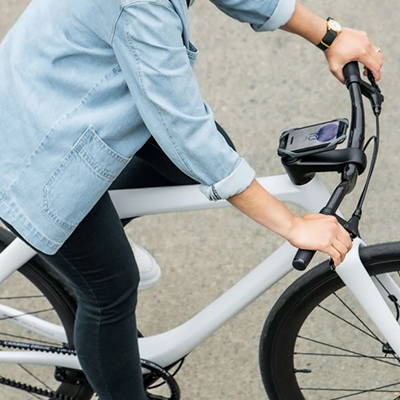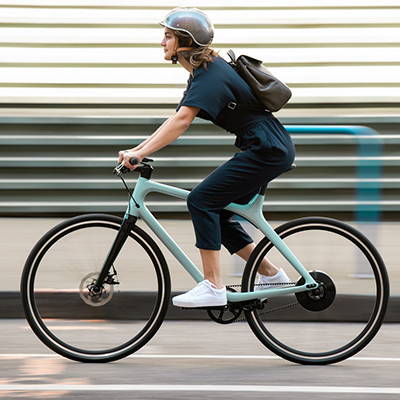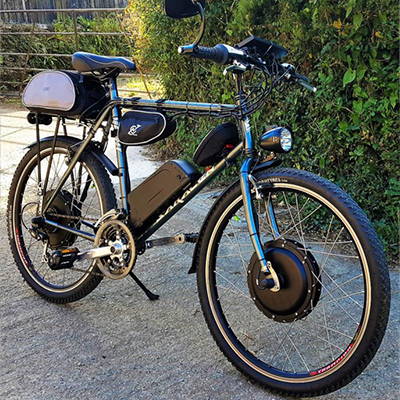 ⭐

⭐

⭐

⭐⭐ "It's well made and works great" - Leo
For the money you can't beat the quality and performance of this kit. My buddy pedals the bike for exercise and when he tires he drives home under battery power. The front wheel motor has plenty of torque. I'm 230lbs and it pulls me up a hill effortlessly. The battery removes easily, it slides off its holder and locks in place with its key. Buy this kit and save a lot of money vs a premade electric bike.
⭐

⭐

⭐

⭐⭐ "Another great kit from BikeBerry" - Ethan Hodge
I installed this on my mountain bike and it's great for riding off-road. The power I'm getting is just enough for daily support on my early morning exercise. It runs smoothly and does its job. Thank you bikeberry.
⭐

⭐

⭐

⭐⭐ "SICK SCHWINN MERIDIAN ADULT TRIKE CONVERSION!" - Jack
This motor has plenty of power! The trike weighs 101 pounds with the motor and battery. It tops out at 24 MPH on flat road. It goes up hills with no problem. I bought a case of water AND a case of beer and it went up-hill at 18 MPH!
⭐

⭐

⭐

⭐⭐ "This is by far my favorite purchase online thus far" - Andrew
Amazing! When i am tired after a long day of work this electric conversion kit gets me home in no time without even having to touch my pedals. I am looking to upgrade in the future but this is perfect for me right now.
What makes BikeBerry different?

We provide the best technical support and customer service in the industry. Most retailers sell you an e-bike kit, give you flimsy instructions, and send you on your way. With over 12 years in the industry, our experts know everything there is help you turn your favorite bike into the electric bike of your dreams. And when any technical questions come up and you need some assistance, we'll be here to get you up and running for years to come.
We carry every single part for our electric conversion kits. Even e-bike kits require some maintenance every once and a while. And when that time comes, you can rest assured knowing we'll be here with every part you need to keep your electric bike conversion running at peak performance. Better, we even have upgrades like bigger batteries to extend your range and keep you riding even longer!
We offer an industry-leading 6 Month Parts Exchange Warranty. Most companies may offer warranties, but they're usually super limited and difficult to use. At BikeBerry we cover every part of your electric conversion kit for up to 6 months, and our experts ensure each warranty is processed quickly and shipped promptly.
Frequently Asked Questions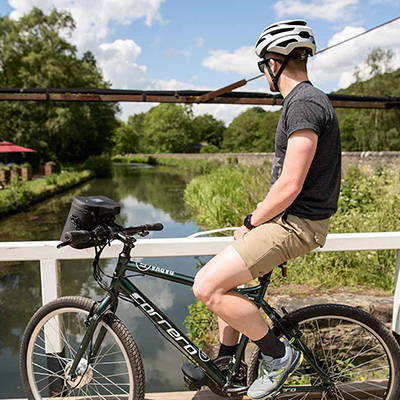 Q: What kind of bike can I use with an electric bike kit?
A: Most electric bike kits are made to fit 26" wheeled bicycles with standard 68mm and 73mm bottom brackets. So as long as you have a standard beach cruiser or mountain bike, you have the perfect bike to electrify.
Aside from the motor, you'll also need to make sure you have room to mount a battery. In order to do that, your bike will need one of two things:
A water bottle holder on the downtube. Most ebike kit batteries come with mounting plates made to bolt right onto your frame where a water bottle would go.
A rear mounting rack. If your bike doesn't have a water bottle mount- or your electric bike kit battery doesn't come with a mounting plate- you'll want to mount your battery to a rack to ensure it stays stationary on your rides.
Q: What comes in an ebike conversion kit?
A: All of the electric conversion kit we offer come 100% complete with everything you need to convert your regular bike into an electric bike: an LCD display for MPH and charge, throttle assembly, a controller, pedelic, all necessary wiring, mounting hardware, and an electric motor.
All you need to provide is your favorite bike, basic bicycle tools for installation (wrenches, a screwdriver, a crank puller, and a bottom bracket tool [for mid drive kits]), and an outlet to charge your battery.
Q: How hard is it to install an ebike conversion kit?
It's easy! If you know how to change a flat tire, you can install a hub drive in seconds. Better, if you have experience with bike repair, installing a mid drive hub is piece of cake.
But even if you have 0 experience cranking wrenches, our helpful installation guides will walk you through the entire process. From removing your bike's components to installing your new kit, we'll get you up an running like the pro's in no time.
Q: How fast can an electric bike kit go?
A: Depending on the size of your motor, electric conversion kits can go anywhere between 10 MPH up to around 30 MPH. However, when these motors are rated they're tested on flat, smooth surfaces.
How many surfaces do you ride your bike on that are perfectly flat? Exactly. So while it's vital to use a kit's rating as a base point, there are some considerations to keep in mind when riding:
Hills, inclines, and rough terrain will hinder the top speed of your motor.
The more weight added to a load (like rider weight or anything you're towing), the lower your top speed will be.
The placement of your motor (front hub, rear hub, or mid drive) and its construction (geared or direct drive) play a heavy role in overall performance and top end speed.
Q: How far will an electric bike kit go per charge?
A: On average, most electric bike kits have a range of 14 to 30+ miles per charge. But that range is calculated when you rely solely on the throttle. There are a number of factors that play a role in the range of an ebike kit:
The larger the battery (i.e. the higher the amperage), the more energy it can hold for longer range. For example, if you have a 48v11.6aH battery with a range of 14 miles, a 48v14aH battery would give you roughly 20 MPH because of its ability to store more energy.
With a pedelic or simply disengaging the motor and using your own energy to pedal, you'll increase your range by at least 10%.
The stronger a motor is, the shorter the range will be because you're asking it to use lots of energy to move.
Hills, rough terrain, and carrying heavy loads will all lower the range of your electric bike kit. This is because you're asking the motor to try to move at the same rate as it would under ideal conditions, which it can only do by using more energy.
Q: Do these ebike kits come with warranties?
A: Absolutely! All of the ModWheel electric conversion kits we offer come with an industry leading 6-month warranty. Not just that, but we also offer lifetime support! With over a decade in the business, our experts have seen all the motors this market has to offer. So we'll be happy to help you with any part of your electric bike journey. We're just a text, phone call, or email away.
Editor's note: This article was originally published in December 2018. It has been updated for accuracy and comprehensiveness as of July 2021.