Welcome to our annual list of the best electric beach cruisers of the year! With over a decade in the industry, we're always asked which electric cruiser bike is the best. And the truth is it all depends on your style of riding, range requirements, and of course, your budget.
That's why we're constantly testing ebikes to bring you this list of the best electric beach cruisers of 2021. But how did we rank them?
We combined our results with customer feedback, top speeds, range, special features, and overall quality to bring you our six favorites. And with value in mind, we also made sure to include a wide price range to accommodate any rider's budget. So check out your next electric beach cruiser below: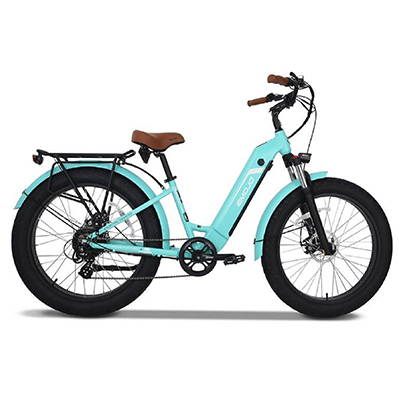 $2,199.99 ⭐⭐⭐⭐⭐ (1 Review)
500W Breeze Electric Cruiser Bike
When you're looking for a step-through electric beach cruiser with the perfect blend of power, size, and the best features around, this is the bike you need.
Its brushless 500w Bafang motor can get up to 20 MPH with a range of 30 miles. The easy-to-mount step-through frame pairs with 26x4" wheels to give you optimal control and grip on any terrain. And with its disc brakes and front end suspension, this bike can ride on nearly any terrain.
Complete with high powered lights, disc brakes, an extra comfortable saddle, and rear rack, this electric cruiser bike has the comfort, safety, and performance any rider can love.
✔ Top Speed: 20 MPH
✔ Range: 30 Miles
✔ Extra Wide for Maximum Control Over the Road
✔ Perfect for both Off-Road Trails and City Commutes
✔ Carrying Capacity: 250 lbs.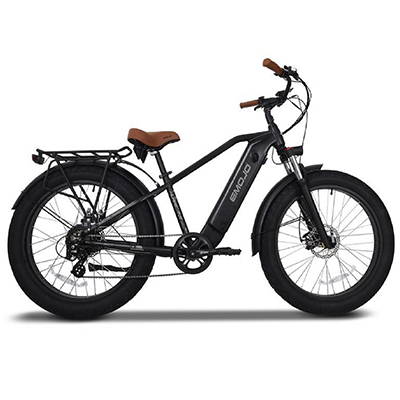 $2,199.99 ⭐⭐⭐⭐⭐ (0 Reviews)
500W Hurricane PRO Electric Cruiser Bike
When you need an electric beach cruiser that can command the road with plenty of speed and towing power, this is the e-cruiser you need.
With a carrying capacity 300 lbs and a range of 30 miles per charge, this ebike makes commuting to work, school, or cruising around town a breeze. And while its 500w motor offers a top speed over 20 MPH, its also has the torque to take hills and inclines with plenty of speed. Complete with an on-board rear rack, this bike is ready for any job you throw at it.
Complete with fat tire wheels, front suspension, disc brakes, and integrated head and tail lights helps gives this bike optimal safety and power on all terrains.
✔ Top Speed: 20 MPH
✔ Range: 30 Miles
✔ High Torque Motor Perfect for Heavy Loads While Commuting
✔ Optimized Components for Safe Off-Road Riding
✔ Carrying Capacity: 300 lbs.
$1,499.97 ⭐⭐⭐⭐⭐ (0 Reviews)
350W Raven Electric Beach Cruiser
If you're looking for an electric cruiser bike with some awesome features that won't cost an arm and a leg, this is the ebike you're looking for.
Its front drum brakes pair with rear disc brakes to give you the best stopping power of any ebike on this list. Meanwhile, its torque sensor helps extend your range to 50 miles. And its aluminum step through frame has a smooth, strong, and unique design, with a digital display and front rack built right on.
At the end of the day, this bike comes with features $2000+ models have for a fraction of the price. So if you're looking for an electric cruiser bike with performance and value, this is it.
✔ Top Speed: 15 MPH
✔ Range: 25 Miles
✔ Uniquely Designed Step-through Frame with Built-in Digital Display
✔ Heavy Duty 13g Wheel Spokes Strongest in its Class
✔ Carrying Capacity: 300 lbs.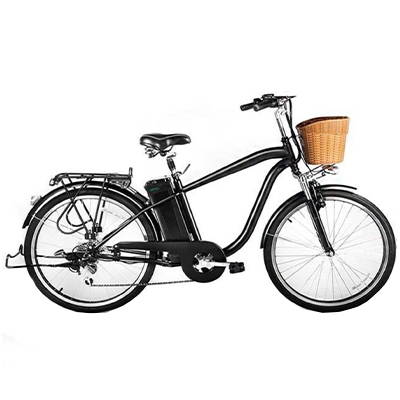 $699.00 ⭐⭐⭐⭐⭐ (8 Reviews)
Nakto 250W Camel Electric Beach Cruiser
If you're looking for a reliable, high quality, low cost electric beach cruiser, this is the e-bike for you.
Its 250W rear wheel electric motor can reach 5-10 MPH with a range of 20-25 miles, perfect for rides around your community and simple cruising. The Class 2 throttle/pedal assist helps you go from pedal to throttle without skipping a beat. And with its 27" road tires and a lightweight 59-pound frame, this bike easily navigates through city traffic.
So when you're looking for an electric beach cruiser with power, style, and utility for less, this bike has everything you need while being 50% less expensive than every bike in its class.
✔ Top Speed: 5-10 MPH
✔ Range: 20-25 Miles
✔ Front Basket and Rear Rack Included Free (+$75 Value)
✔ Available in Step-Through Model
✔ Carrying Capacity: 250 lbs.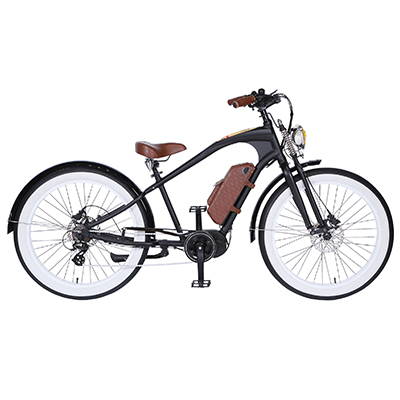 $3,499.99 ⭐⭐⭐⭐⭐ (0 Reviews)
500W Vacay Mid Drive Electric Cruiser Bike
Looking for a head-turning electric cruiser bike with power and features to spare? This is the premium ebike that you need.
Its 500w mid drive motor can hit speeds of 20 MPH with a range of 32 miles and more toque than any hub drive motor. It's also got Monark springer forks for a safe and stylish way to take bumps and uneven terrain. Its extra large head light gives this ebike an old-school bobber feel, and its leather and chrome accents give this a look like no other cruiser bike out there.
So if you're looking for a show-stopper of an electric beach cruiser, this is the ebike you need to hit the streets in style and command and road.
✔ Top Speed: 20 MPH
✔ Range: Up to 32 Miles
✔ Springer Forks and White Wall Balloon Tires Offer Optimal Control and Safety on All Terrain
✔ Available in Step-Through Model
✔ Carrying Capacity: 260 lbs.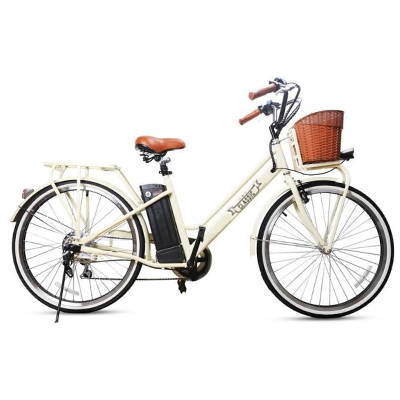 $819.00 ⭐⭐⭐⭐⭐ (1 Reviews)
Nakto 250W Classic Electric Cruiser Bike
When you're looking for a lightweight, thin bike for cruising the city, this class electric cruiser bike is what you need.
Its 26x1.75 wheels and thin city bike frame give this ebike the maneuverability you need to weave in and out of traffic. The 250w brushless motor offers a top speed of 10 MPH, while its 36v10aH battery gives you a range of 18-25 miles. And with its front disc and rear drum brakes, this bike has the premium stopping power you need for city commuting.
Complete with extras like a built-on rear rack, a seat tube with adjustable seat angle, and rear reflectors, this bike will give you a classic feel with modern safety and performance.
✔ Top Speed: Up to 10 MPH
✔ Range: 18-25 Miles
✔ Classic Style Front and Rear Racks w/ Basket Included
✔ Narrow Frame and Wheels Perfect for Cruising in Cities and Bike Paths
✔ Carrying Capacity: 250 lbs.
What is an Electric Beach Cruiser?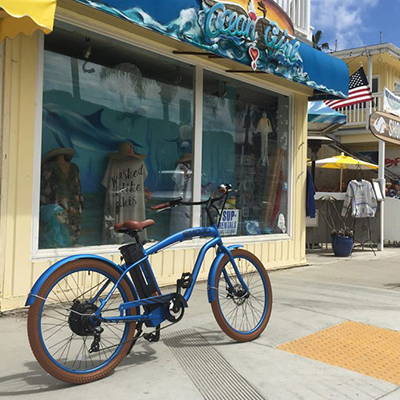 Simply put, an electric beach cruiser is an electric bicycle that created in the style of a cruiser bike.
The shape of most electric bicycles is closer to hybrid bikes, road bikes, and mountain bikes. So what makes electric cruisers so great is that they're designed to do everything most electric bikes do- only with a laidback, comfortable cruiser bike style.
With that in mind, let's take a look at some of the standout features that set these apart from other electric bikes:
Why Ride an Electric Beach Cruiser?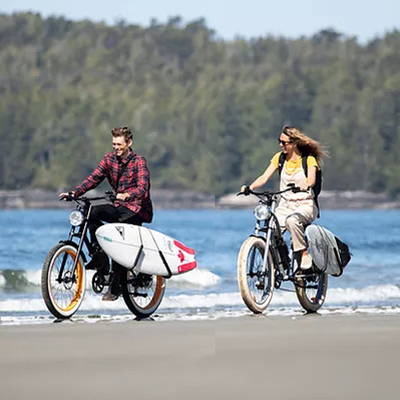 With so many options out there, you may be asking yourself, "Why choose an electric beach cruiser over any other types of ebike?" And to be honest, there are lots of reasons to go with a variety of ebikes other than cruisers.
But of all types of ebikes- from folding electric bikes to electric mountain bikes- electric cruiser bikes stand in a league of their own. They blend comfort and style with performance for an ebike that performs as well off road cruising as it does commuting around town. In fact, let's talk about the top reasons you should be riding an electric beach cruiser right now:
Designed for Maximum Comfort and Performance. Compared to other ebikes that make you uncomfortably crouch over the frame, electric cruisers give you a comfortable ride and optimal control by letting you sit up with your shoulders and arms at a more ergonomic position. And all that comfort is backed by a motor that gives you the speed and torque you need for street and off-road use.
Made to Ride on a Wide Range of Surfaces. Electric beach cruisers offer powerful motors, large 3" tires, and safety features like disc brakes and suspension assure these bikes can safely and comfortably ride on nearly any terrain. From sandy beaches and dirt roads to the streets and bike trails, electric cruiser bikes can ride nearly anywhere any other ebike can ride.
Head-Turning Style. While most ebikes can only boast fancy colors or components, electric beach cruisers have the widest selection of models. From electric choppers that look like mini motorcycles to simple cruiser bike models and every style in between, electric beach cruisers have the widest and most style-forward bikes in the industry.
Types of Electric Cruiser Bikes

Now, while they may have plenty of advantages over other electric bikes, electric beach cruisers also have some of the most options out there. That can make things tricky when it comes to finding the e-cruiser that's right for you.
So to start getting you on the path to the right ebike, we'll start by exploring the three most popular types of electric beach cruisers: standard, step-through, and fat tire electric bikes.
Standard Electric Cruisers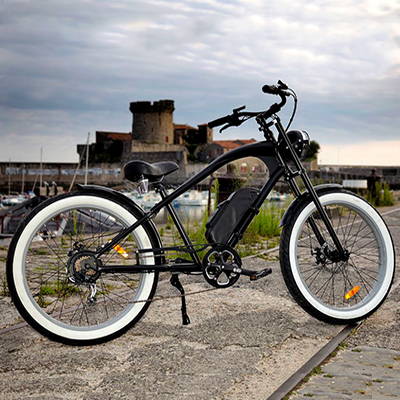 ✔ Stronger Structure- The diamond manufacturing of standard cruiser ebikes makes them structurally stronger and lighter than step-through frames, which heavier and trickier to maneuver.
✔ Widest Selection of Models- Standard electric cruiser bikes have a huge selection of models, from stretch and chopper models all the way to covert cruisers you can't tell are electrified.
✔ Best Price Range- With the widest selection of models, standard electric beach cruisers have a wider price range than other types of electric cruiser bikes. Simple models start at under $700, and the more decked out models as expensive at $2500 and over.
Step-Through Electric Cruisers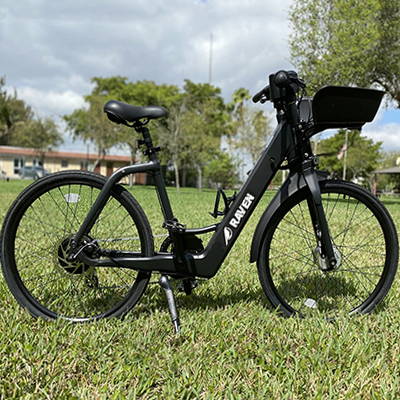 ✔ Easiest Electric Bike to Mount- The sloped downtube of step-through frames make mounting a breeze. This causes less stretching of your clothes, it's easier on your knees, and makes mounting and dismounting a lot faster.
✔ Compatible with a Wider Range of Riders- From young to the elderly, short to tall, these bikes are easier to use for more people than any other frame. That's because they're easier to mount than standard frames.
✔ Higher Safety Potential than Other Ebikes- By eliminating the overhanging down tube, you eliminate the risk of injury to your under-section in case of quick stops.
Fat Tire Electric Cruisers



✔ Higher Carrying Capacity- With 26x4" wheels, these ebikes can carry 25-50lbs more weight than any other electric beach cruiser.
✔ Wider Range of Terrains to Ride On- Their extra wide, knobby tires give you superior grip compared to other ebikes. This gives them optimal traction on loose terrain like sand, gravel, and even snow.
✔ Better Suited for Bad Weather- Having superior traction on the road, these are great in times where the weather changes out of the blue. If you get caught in a downpour or you wake up to a snowy street, these will be able to give you the traction you need to safely ride on slippery and muddy terrain.
Once you pick the right type of electric beach cruiser for you, the next step is finding an ebike with the size and power you need on your rides.
A proper fitting e-cruiser is crucial to your safety. If it's too sort you can't safely pedal and ride; and if it's too tall you won't be able to safely control your bike, let alone pedal comfortably. So you'll want to make sure you have an electric cruiser with a frame that fits you properly.
But that's just half the equation.
An electric cruiser bike is nothing if it doesn't have the power you're looking for. That's why most come in three sizes: 250w, 350w, and 500w. Each offer their own top speed and ranges, so it's important to make sure that the ebike you go with has the strength you need.
So if you're having a hard time figuring out the best size and power for your needs, take a look at our charts below and find the size that fits your needs: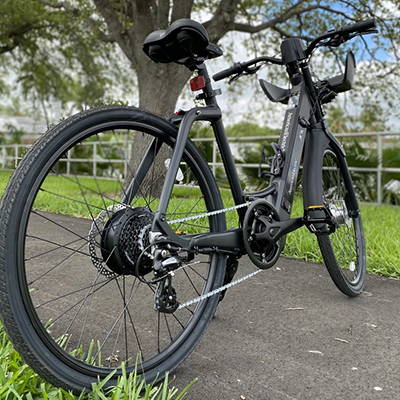 Here, we'll break down motor types, their top speeds, average ranges, and their recommended uses and give you an idea of what each size brings to the table:
| | | |
| --- | --- | --- |
| Motor Size | Top Speed/Range | Recommended Use |
| | | |
| | | |
| | | |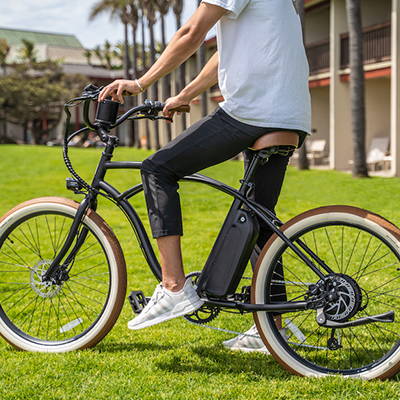 Electric beach cruisers vary in frame sizes, even with the same size wheel. Check out the common sizes you'll find and our sizing recommendations:
| | | |
| --- | --- | --- |
| Frame Size | Rider Height | Rider Inseam |
| | | |
| | | |
| | | |
Finding the Right Electric Beach Cruiser

At the end of the day, electric cruiser bikes are comfortable and efficient. But with so many models to choose from, it might be hard to choose the right electric beach cruiser for your needs.
Thankfully, whether you're looking for something to cruise around big city streets, hit off-road terrain, or just want to add a bit of assistance to your seaside ride, there's an electric cruiser for you.
All you have to do is find the right type of e-bike is best for you, the right size, and the best power for your budget. And with the information in this guide, you'll be able to pin point the features you need for the ride of your dreams.
Why Do Riders Like BikeBerry Electric Cruiser Bikes?

Superior customer service and lifetime support. Finding quality customer service is like finding a needle in a haystack. That's why our ebike experts are trained to handle any ebike situation you can throw at it, from installation to repairs to maintenance. Moreover, our Lifetime Assistance means we're only a call, text message, or email away from answering any of your e-bike questions far beyond your warranty.
We offer a huge range of ebikes for all budgets. While most companies have overpriced name brands or cheaply made off brand ebikes, we offer the highest quality electric beach cruisers at prices to fit any budget. At BikeBerry you'll only find brands with the highest quality standards with features that suit all styles of riding, no matter if they're under $1000 or over $3000.
Each electric cruiser bike comes with a 1 Year Coverage Guarantee. Unlike other companies with 30 day warranties that are hard to use, each electric cruiser bike we offer comes with a full year of coverage against manufacturer defects. From the motor to the frame to the components, we'll make sure you're covered. And because we work directly with manufacturers, the warranty process is easier and faster than others.
What Do Riders Have to Say?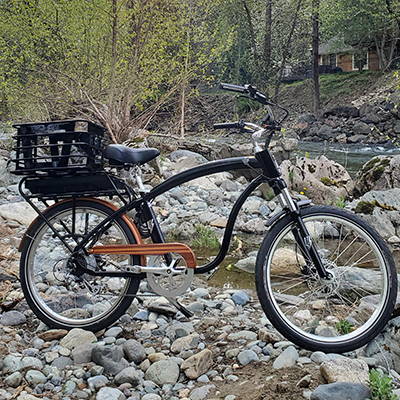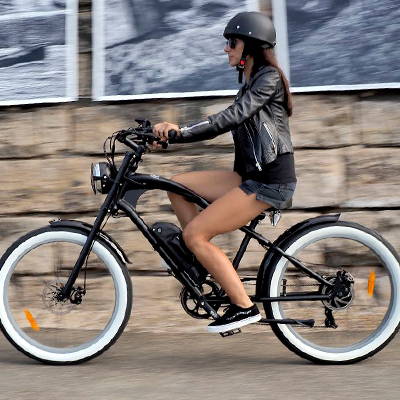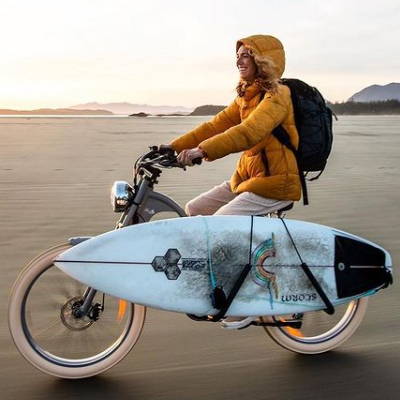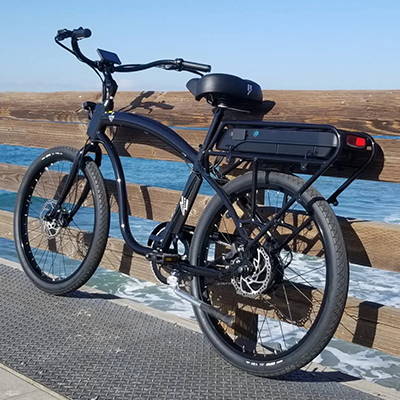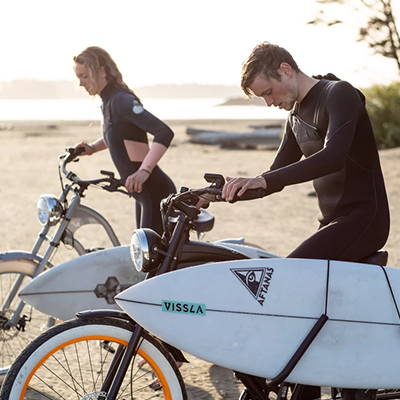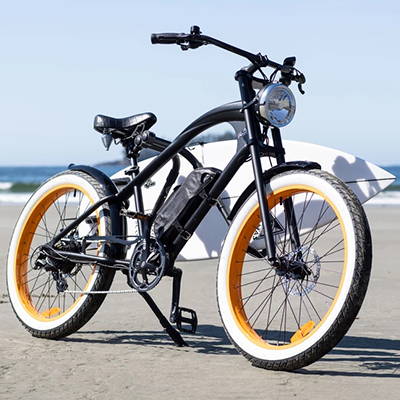 ⭐

⭐

⭐

⭐⭐ "I am loving this ebike so much!" -Keegan F.
I got the Breeze as a gift from my wife and it is now my new favorite toy. I've been riding in the evenings and it's been a great way to get outside and get exercise. The bike was easy to set up and use. It's a very smooth, but powerful ride.
⭐

⭐

⭐

⭐⭐ "Just what I needed for my trips" -Lauren S.

The bike turned out even better than I expected! I was looking for a step-thru bike so I can fit a basket on the back for making trips to the farmers market. The build quality is superb and feels super solid.
⭐

⭐

⭐

⭐⭐ "Worth every penny" -Mike D.

The Camel has 462 miles on with no problems. Still on original tire and brake pads. Going to change the tires and brakes in the spring when I can ride again. I usually ride around 20 miles and the battery still has some left.
Frequently Asked Questions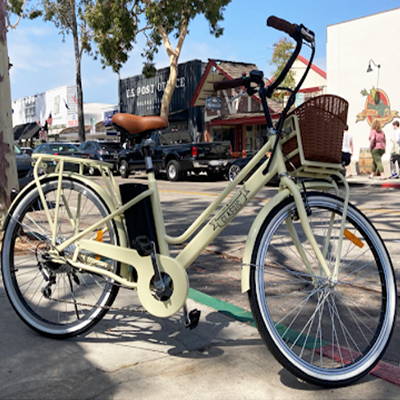 Q: What the best electric cruiser bike for me?
A: The best electric beach cruiser for you is the one that fits the best, gives your the power and safety you need for your rides, and most important, fits your budget properly.
Most sellers just want to make a profit and don't care if it's not the right fit for you. That's why most end up going with an under-performing and underwhelming ebike experience.
So before you spend a single dollar, here are a few recommendations to ensure you're getting the best ebike for your next ride:
250w electric beach cruisers are made to give you an easy amount of throttle, and best used for riders looking for more of a pedal-assist bike than a throttle-less vehicle.
350w electric beach cruisers give you a boost of speed and torque on your rides, great for transitioning from throttle to pedal-assist for easy commuting.
500w electric beach cruisers offer you the best mid-range of torque and speed, great for throttle-heavy riding and commuting on inclines and loose terrain.
Q: How long can I ride an electric beach cruiser before charging?
Most electric beach cruisers have a range of 20-30 miles per charge when using only the throttle. However, when using pedal assist modes, the range of most e-cruisers goes up to 40-50+ miles.
Range can vary depending on a number of factors, including...
Battery Size- The amperage of an ebike battery is a reflection of how much energy it can hold. The higher the amps, the more energy you get for longer ranges, and vice versa. For example, a 48v11aH battery has a range of 14 miles, whereas a 48v14aH battery has a range of over 35 miles.
Carrying Capacity- The more weight your electric beach cruiser has to carry, the more energy it will use. This, in turn, will decrease your range. The opposite is true, as well: when you lighten your load, you'll increase range.
Hills and Inclines- Steep hills and inclines create resistance against your motor, forcing it to work harder than normal to travel. This will decrease range; and by contrast, riding down hills uses no energy, and help mediate the loss in range.
Pedal Assist vs. Throttle- The less work an electric cruiser has to do, the higher its range will be. Using pedal assist and torque sensors help increase your range, as they use minimal amounts of energy to help you pedal. However, going all-throttle is perfect when going up hills and steep inclines, or when you need to give your legs a break.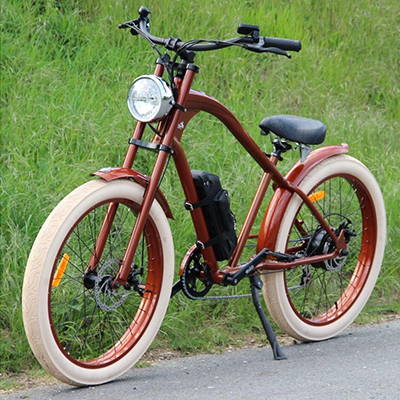 Q: How fast can I go on an electric cruiser bike?
A: The top speed on most beach cruiser ebikes ranges from 10-25 MPH.
Of course, this depends on a number of factors, including motor size, towing weight, and the terrain you're riding on:
The larger the motor, the higher the top speed. For example, 250w motors have a top speed of around 10 MPH, whereas 500w motors can ride up to 25 MPH.
The more weight you carry, the slower you'll ride. Extra weight will hinder the top speed of an ebike. So the more you carry, the lower your top end speed will be.
Rough terrain mean less speed. Riding on loose terrain means you'll get less traction on the road. Less traction may cause your wheels to spin faster, but you'll be moving slower than you would on solid ground. Worse, you'll waste more energy, too.
Q: Where can I ride an electric cruiser bike?
A: In most places you can ride an electric beach cruiser anywhere you'd ride a regular cruiser bike: on sidewalks, trails, bikes paths, and in some places, in the street.
However, it's vital to remember that electric beach cruisers are powered by electric motors. In most areas, having a motor on your bike makes it a motor-assisted vehicle. When that's the case, you'll need to ensure you have the right licensing, insurance, and most important, all the safety features you need to stay safe while riding.
So if you're not sure what the rules are in your area, we recommend by contacting your local DMV on rules regarding the operation of electric cruiser bikes. And if you're not sure where to start, take a look at our guide to e-bikes laws around the US, which you can find here.
Q: What are the warranties on electric beach cruiser bikes?
Each electric cruiser bike we offer at BikeBerry comes with a 1 year warranty against frame, battery, and motor malfunctioning. That's a full year of protection to make sure you're getting the most out of your ebike without fail.
Because we work directly with manufacturers, we're also able to offer you the easiest warranty experience and some of the quickest turnaround times, too. Just shoot a pic of the damage, send it to us, and we'll take care of the rest. And with our Lifetime Assistance, you'll have the reassurance that even after your warranty expires, we'll be here to make sure your bike's well maintained and you're riding season after season.
Editor's note: This article was originally published in September 2020. It has been updated and revised for accuracy and comprehensiveness as of September 2021.