Welcome to this year's list of the best folding electric bikes! You're probably asking yourself, "What's the best folding ebike for me?"
And the truth is, it depends on the features you need out of an ebike and how it fits into your budget. That's where this list come in.
Each year we test a number of folding ebikes and rate them based on their performance, features, and overall build quality. We then combine our results with rider feedback to find the best of the best across all price ranges. The result: the top folding electric bikes of 2021!
Check out your options below and find the foldable, portable electric ride of your dreams: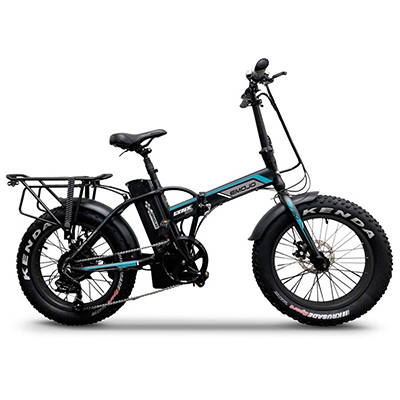 $1,699.00 ⭐⭐⭐⭐⭐ (1 Review)
500w Lynx Pro Folding electric bike
Thanks to its fat tire design and brushless 500w motor, this folding electric bike can handle any terrain you throw at it.
The 20x4" Kenda fat tires provide the traction and power necessary to grip hills and across gravel, bumpy roads, sand, and snowy off-road terrain. Meanwhile, its 48v500w motor can each speeds of 20 MPH and a range of 30 miles per charge, perfect for commuting and cruising.
So if you're looking for an ebike you can cruise the streets, hit the trails, then pack up and cruise the beach or the desert, this is the folding ebike you need.
2. Best Low Cost Folding eBike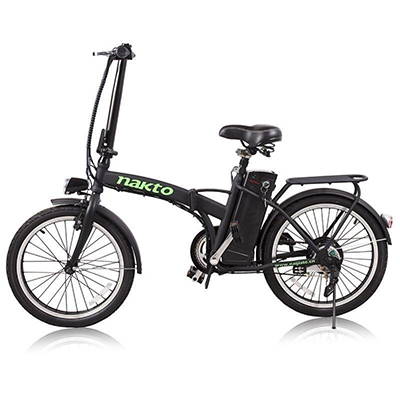 250w Nakto fashion Folding electric bike
If you're looking for a folding ebike with plenty of power and features for the lowest price tag, this is the bike for you.
With a total frame length of 42", this ebike gives you more leg room than other 20" ebikes. The 250w motor gives you a nice cruising speed of 5-10 MPH and a range of up to 20 miles. And rounded out with rear drum brakes, LED headlight, a tail light, and a rear rack, this ebike has has some of the best features for the lowest price.
So if you're in busy city environments and need a ride that's got size and comfort without a hefty price tag, this is the folding electric bike you want.
✔ Top Speed: 5-10 MPH
✔ Range: 16-20 Miles
✔ Perfect mid-size folding electric bike for comfortable cruising
✔ Rear drum brakes offer superior braking over caliper brakes
✔ Load Capacity: 250 LBS
3. Best Full Size Folding eBike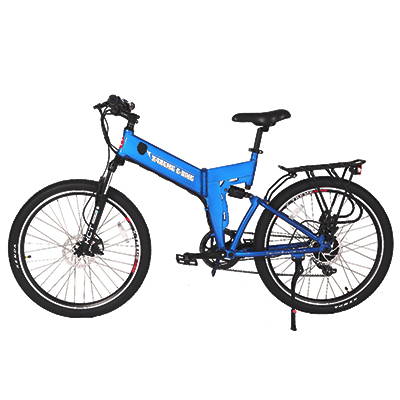 $1,299.00 ⭐⭐⭐⭐⭐ (1 Review)
300W X-Cursion Folding Mountain EBike
When you're looking for a full-sized folding electric bike you can take to on mountain and off-road trails, this is what you're looking for.
Its center and front suspension help take bumps and uneven surfaces comfortable, while the 26"x2.5" knobby mountain bike tires grip any terrain. The 350w motor can reach speeds up to 20 MPH with a 30+ mile range per charge. With a carrying capacity of 350 LBS, this is bike can climb up hills and inclines, and carry loads no matter where you ride.
If you're looking for a folding electric mountain bike to get you anywhere you want to go, this is what you're looking for.
4. Best Ultra Compact Folding eBike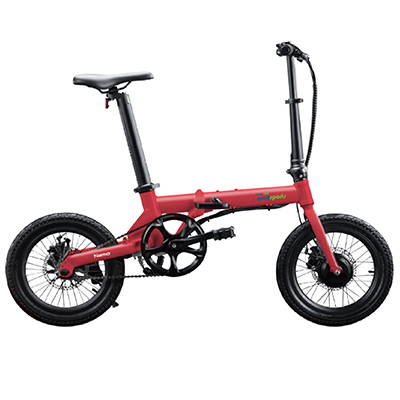 250W Nemo Folding Electric Bike
When you need the most compact folding electric bike you can find, this is the ebike you need.
Its 16" folding aluminum alloy frame folds down to a 29x16x25" size, making it one of the most compact folding ebikes around. And while it's also one of the lightest folding ebikes at a mere 31 lbs, it has a 16" wheelbase and a carrying capacity of 220 lbs.
Its 250w motor gives this ebike offers a max speed of 16 MPH and a range of up to 31 miles, perfect for city riding. So if you commute through tight city spaces and need a ultra-compact way to get around, this is the folding ebike for you.
✔ Top Speed: Up to 16 MPH
✔ Range: Up to 31 Miles
✔ Total weight of 31lb, Significantly Lighter than Other Folding eBikes
✔ Folded size of Under 2ft, Easy to Store
✔ Load Capacity: 220 LBS
5. Best Value Folding eBike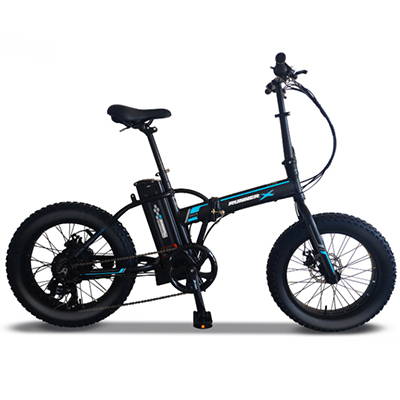 $1,079.99 ⭐⭐⭐⭐⭐ (1 Review)
500W Runner X Fat Tire Folding Electric Bike
When you're looking for the best folding electric bike for your money, this is the bike you're looking for.
It's supported by a high torque 500w motor and a 48v battery, capable of getting up to 30 miles per charge and reaching speeds up to 20 MPH. The 4" wide fat tire wheels combined with its Shimano 7-speed gearing system make it perfect for landing riding and off-road use.
And while most bikes with the same features will cost you well over $1500, this bike starts at under $1100! So if you want a folding ebike at the best value, this is the model for you.
6. Best Step-Through Folding eBike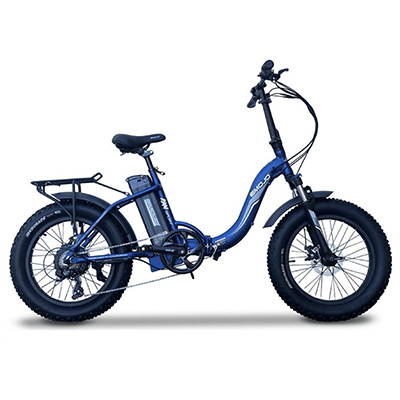 $1,899.99 ⭐⭐⭐⭐⭐ (1 Review)
750W Ram SS Folding Electric Bike
If you're looking for a folding electric bike that's easy on the legs but tough as nails on the road, this is the bike for you.
Its step through frame makes mounting and dismounting a breeze compared to standard frames- even for a 20" bike. Its front suspension helps absorb the bumps on your ride, while its 4" wide wheels can command any terrain you can throw at it.
The 750w motor goes up to 20 MPH with a range of 30 miles per charge, giving you the torque and speed you need for easy commutes and rocky rides alike. So when you want more comfort on and off your ride and can't sacrifice performance, this is the bike you need.
✔ Top Speed: Up to 20 MPH
✔ Range: 30 Miles
✔ Step-through frame is quick and easy to mount
✔ Onboard rack included for towing and storage
✔ Load Capacity: 230 LBS
7. Best Premium Folding eBike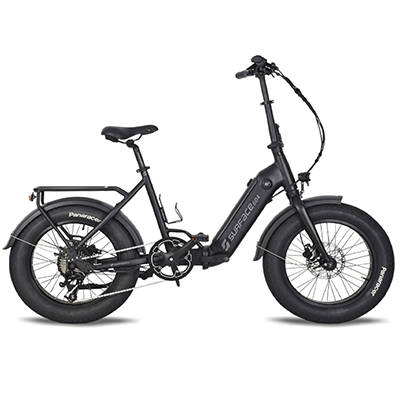 $2,099.99 ⭐⭐⭐⭐⭐ (1 Review)
500W Twist Folding Electric Bike
This folding electric bike pulls out all the stops in a premium bike that perfectly blends power, range, and style.
The torque sensor improves power distribution for a stronger ride. It also increases torque and its carrying capacity to 285 lbs. Moveover, it also increases its range to 45 miles per charge. Its step-through frame offers optimal comfort on and off the road, while its 500w motor reaches speeds of up to 25 MPH.
Complete with high powered LED head and taillights, 9 speed gearing, and two micro USB jacks for mobile connectivity and charging, this folding ebike has the premium features and performance of top-tier electric bicycles.
✔ Top Speed: 20-25 MPH
✔ Range: 45 Miles
✔ Strong torque sensor helps climb hills and increase range
✔ Lockable, password protected ignition for extra anti-theft measures
✔ Load Capacity: 285 LBS
8. Best Sports Folding eBike
$1,799.99 ⭐⭐⭐⭐⭐ (1 Review)
500W Lynx Pro Sport Folding Electric Bike
When you need a quick, slick folding electric bike with premium performance and range, this is the bike for you.
Its frame is the slimmest of any in its class, weighing 5-10lbs less than the competition. At the same time, the 48v500w hub drive motor with 5 pedal assist modes can reach speeds over 20 MPH with a range of 30 miles. And by utilizing 4" mag wheels equipped with disc brakes, this folding ebike even has less wind resistance than others in its class.
So if you want a lightweight folding ebike that can command the road and without sacrificing power, you'll find what you're looking for with this model.
✔ Top Speed: 20 MPH
✔ Range: 30 Miles
✔ Lightweight wheels and frame increases speed and range
✔ Tektro disc brakes offer premium stopping power
✔ Load Capacity: 230 LBS
9. Best Hunting Folding eBike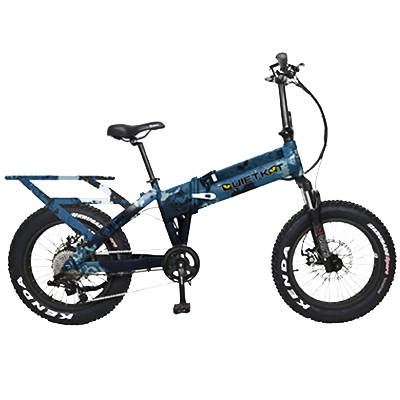 $2,899.99 ⭐⭐⭐⭐⭐ (1 Review)
750W Voyager Folding Electric Bike
This folding electric bike is made to carry loads and take you anywhere your hunting trips take you.
Its Bafang Ultra-Drive 750w Mid-Drive motor runs silently to stalk prey undetected no matter what game you're hunting. It's also got a carrying capacity of 300lbs, a top speed of 25 MPH, and a range of up to 40 miles to take your kill and equipment wherever the hunt takes you.
And with a set of 20x4" wheels, front suspension, and disc brakes, this folding ebike can command any off-road surface safely and comfortable. So if you need a compact ebike with everything you need for hunting, this is the electric bike for you.
✔ Top Speed: 25 MPH
✔ Range: Up to 40 Miles
✔ Mid-drive motor offers superior torque and speed over hub drives
✔ Built-on heavy duty rear rack for carrying cargo and hunting equipment
✔ Load Capacity: 325 LBS
10. Best High Performance Folding eBike
$1,799.99 ⭐⭐⭐⭐⭐ (1 Review)
750W Motan M-150 Folding Electric Bike
When you need a folding electric bike that can hit high speeds and pull up hills with maximum range, this is the ebike you want.
The 750w motor can hit speeds of over 25 MPH, and paired with its 48v16aH battery, this bike has a range of up to 65 miles. It also has a carrying capacity of 280lbs for plenty of hauling, especially with its detachable rear rack. The 7-speed cassette helps give you an added bit of pull on hills and inclines, while its front end suspension and 4" wide wheels keep you grounded and safe on loose terrain like dirt and snow.
Rounded out by integrated head and tail lights, this ebike has the performance and features you need to command any road or trail.
✔ Top Speed: 25+ MPH
✔ Range: Up to 65 Miles
✔ High performance for off-road, extra safe for city commuting
✔ Integrated head and tail lights controlled via display
✔ Load Capacity: 280 LBS
What is a Folding Electric Bike?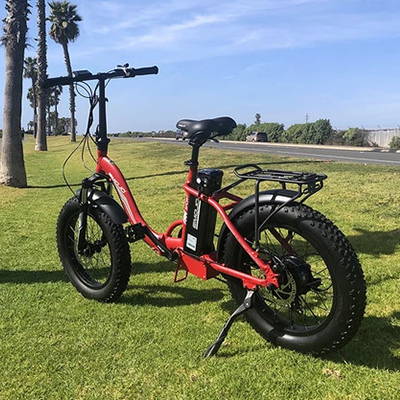 A folding electric bike, by definition, is an electric bike with a collapsible, folding frame.
But aside from their folding frame, folding ebikes stand out against standard electric bikes in a few key ways:
They're more compact than other ebikes. Their frames tend to be around 14-16" and their wheels tend to be 16-20", giving them much smaller sizes than other ebikes- especially when folded.
They offer adjustable stems. Because of their short stature, most folding ebikes also have adjustable handlebar stems. These help you find the optimal handlebar height for you.
They're made for maximum storage and portability. With such compact features and a folding frame, these bikes are made specifically to fit under beds, in car trunks, even next to you on the bus or at the office. Even better, with the ability to take it with you, they're the least prone to theft than any bike you can lock up.
Why Should You Ride a Folding Electric Bike?

A folding electric bike takes the perks of e-bikes to the next level. Combining the standard benefits of standard e-bikes with the ability to fold in half, folding electric bikes are a must-have for anyone who is interested in a new way to commute to work, ride the trails, or just cruise around.
Simplified Transportation. Folding electric bikes make transportation a breeze, allowing you to have your bike whenever you need it most. They're easy to store in the trunk of your car, and makes these e-bikes ideal if you want to drive to your favorite trail for a bike ride. Or if you need to catch a bus or ride the subway for part of your commute, just fold your e-bike up and carry it on board. Not to mention ride shares just got easier, because you can now take your bike with you instead of riding all the way back.
Easier and Safer Storage. If you live or work in a place where space is limited, a folding electric bike is a great option. You can store a folding e-bike in a small living room, the trunk of your car, take it with you into work or class, or pack it in storage unit without worrying taking up too much space. And even better, instead of using a lock and hoping your ride is safe, you can carry your ebike with you can guarantee its safety.
High Durability. Because these e-bikes are meant to be collapsed and carried around, folding electric bike manufacturers make sure all of the parts can withstand constant folding and opening. This is important because you'll be folding your bike at least twice a day, so they need to be able to open and close consistently. In some ways, folding electric bikes can be more durable than standard e-bikes.
Types of Folding Electric Bikes

As you've seen, there are tons of folding electric bikes out there. The number of options can be overwhelming, so we think it's helpful to begin your search by asking whether you want a compact folding ebike or a full sized folding ebike.
Compact folding ebikes are in the 16 and 20" range, and full-sized bikes are in the 26" wheel range. And once you know which type of folding electric bicycle you want, features like motor size, battery size, and safety components will fall into place.
In this section we'll compare these two types of folding ebikes and their motor sizes to see which type is best for your rides: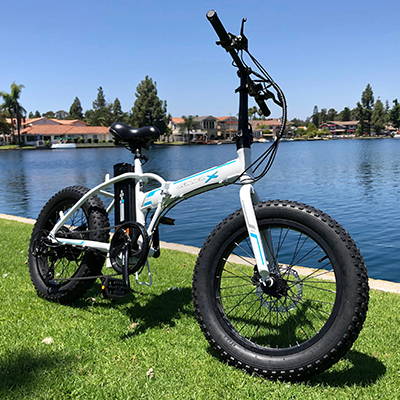 Compact folding ebikes are particularly popular because of their ability to be taken anywhere effortlessly. Because they only have 16" or 20" wheels and 14-16" frames, they can be packed up quickly, taken anywhere, then unfolded and ridden everywhere.
✔ One Size Fits Most- Folding ebikes with 16" and 20" wheels can hold anywhere from 225-300+lbs. And because they can be adjusted to fit any rider, they can fit riders from 4ft to 6ft tall. That makes these perfect for nearly any rider of any size with plenty of carrying capacity.
✔ Optimal Maneuverability- Because of their small size, you have more control to weave, take sharp turns, and carve on any nearly any terrain. This is especially helpful for both city and off-road riding.
✔ Extra Theft Protection- Because they're small and lightweight, these folding ebikes can folded up and taken anywhere. Roughly the size of a large briefcase, you won't have to worry about locking up your expensive e-bike anywhere because you can have it at your side at all times.
X Weight has immediate affect on performance
X Not a Great Fit for Anyone Over 6ft
Full Sized Folding eBikes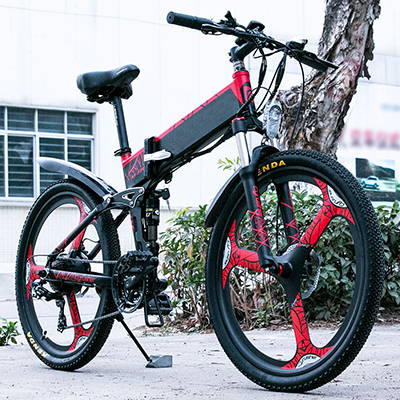 Full-sized folding ebikes are the go-to for riders that want all the perks of a 26" bike with the portability of a foldable ebike.
Their larger wheels and cranks build more power while riding than smaller wheels, helping them build speed and torque over smaller wheeled bikes, while offering better control over your bike.
✔ Optimal Control- The 26" wide handlebars on full sized folding ebikes give you better command over your bike. Coupled with 26" wheels, these bikes give riders 5 better control than smaller ebikes, especially at higher speeds.
✔ Better Power- Larger wheels can gain more power as their ride, giving them higher top end speeds than smaller wheeled ebikes. They also have better weight distribution than their smaller counterparts, helping alleviate the impact loads have on top end speed and bottom end torque.
✔ More Visible Than Compact Models- A taller bike is always better in a crowd and dark rides. Even with lights and reflectors, it's safer to ride tall when visibility is low, and you'll get that peace of mind with these folding ebikes.
X Not Ideal for Riders Under 5'5"
X Heavy to Carry/Transport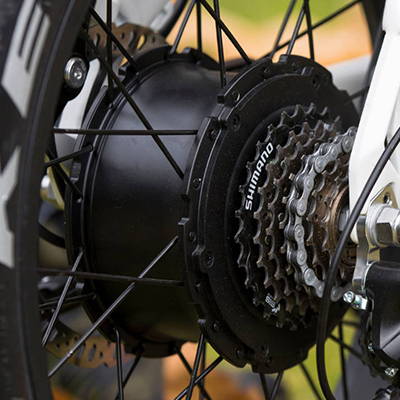 Folding electic bikes- like all ebikes- come in two motor types and have about four common wattage types. Let's take a quick look at your options and find the best motor for your needs:
Hub Motors- These motors offer the best control over your bike because they're mounted directing in the rear wheel. They do, however, suffer a little top speed because of the weight directly over the motor.
Mid Drive Motors- These motors give you some of the best power, as they are run off your cranks. This gives them superior power distribution and pedal assist for superior torque over hub drives. However, these motors are dependent on a bike's cranks, so if they chain breaks or jams, your bike is stuck.
250w motors top out around 10-12 MPH, perfect for cruising and weekend riding.
350w motors can go up to around 15 MPH, ideal for light commuting.
500w motors can get up to 20 MPH, and best for light towing and moderate off-road use.
750w motors reach 25-28+ MPH, perfect for long distance commuting and carrying heavy loads on all terrain.
Choosing the Right Folding Electric Bike

Now that you have all the tools you need find the size and the speed you need for the folding electric bike of your dreams, the only thing left to look for are the final touches.
And with our list of the top folding ebikes of 2021, you'll find the features you want in the ebike you need. From suspension to special features, this list has a bike that checks all the boxes any rider wants down to the dollar.
All that's left is choosing the one with the performance and features that fits your budget. So use this info and our list to find the folding ebike you've been looking for.
Why Do Riders Love BikeBerry Folding Electric Bikes?

We have the best tech support and service in the industry. Most companies have salespeople that only know how to sell ebikes. At BikeBerry, our ebike experts know folding ebikes inside and out, so we can answer all the questions you have to pinpoint the exact bike for you and your budget. From sizing and performance needs to maintenance and repairs, we'll make sure to get you the perfect ebike and keep you riding for years to come.
We offer a wide range of folding electric bikes for any rider. While others only specialize in one type of folding ebike, BikeBerry makes sure we have a variety of models for a huge range of needs. From full-size cruisers to compact off-road models and everything in between, we have more folding electric bikes to fit your lifestyle and your wallet than others.
All folding ebikes come with a full year of coverage and lifetime assistance. Each folding electric bike we offer comes with 1 year of coverage against frame, motor, battery, and component defects. And while most companies cut off their service once your warranty expires, with BikeBerry's Lifetime Assistance we're here to answer any questions you need to keep you riding for years.
What Do Riders Have to Say?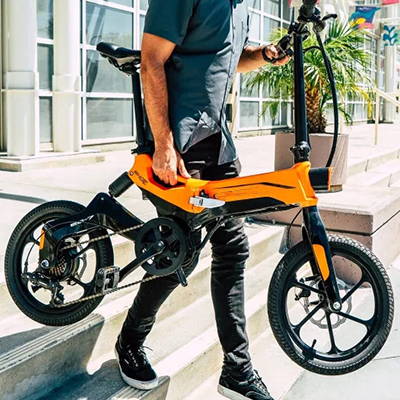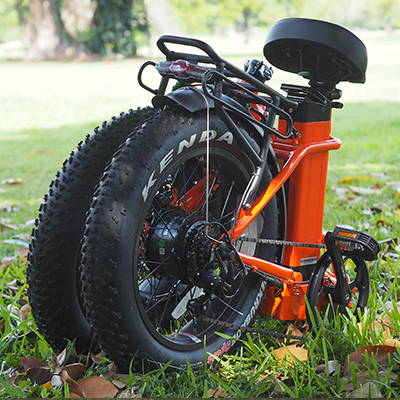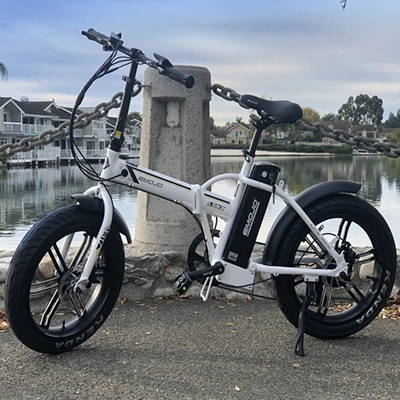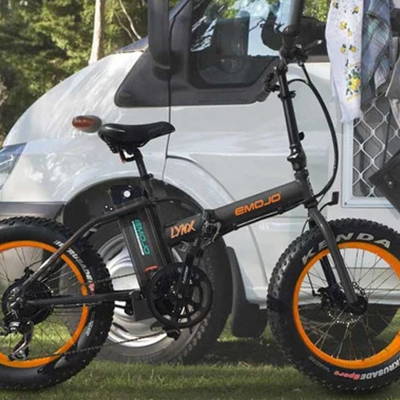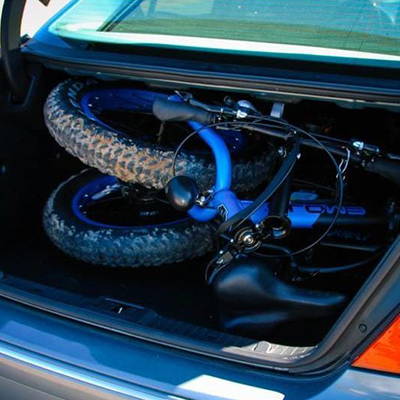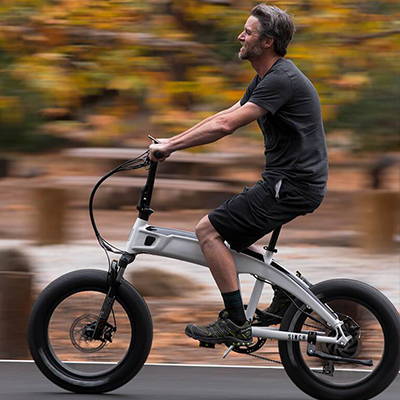 ⭐

⭐

⭐

⭐⭐ "Easy stepover and good upgrade" Jim S.

The Ram SS has a stepover height eight inches lower than others, making for an easier safer mount and dismount, especially for anyone with hip or knee issues.

The frame is aluminum, rather than steel, which cuts about ten pounds from the overall weight - very helpful when wrestling it into a car. There is also a front suspension, an upgraded controller that now shows distance traveled and current speed, and allows five levels of assist rather than the previous three. The motor is now 750W at 48V, rather than the most that come with 500W at 36V. This means more horsepower when needs for the steepest inclines.

Overall, an excellent top of the line folding bicycle. Highly recommended!
⭐

⭐

⭐

⭐⭐ "Great bike, I've had it for almost a year now!" -Anthony F.

I love the Lynx Pro, it's quick, responsive, comfortable. I go on the beach, dirt trails, in the city, take it on the train. 200 miles of smooth sailing. I love that it fold, because it fits perfectly in the back of my jeep. Having a great time everyday with my bike, and couldn't be happier.
⭐

⭐

⭐

⭐⭐ "JUST LOVE IT" David P.

I have M.S. and am not able to walk without crutches. I thought the Nemo would be good because it has a low profile and I would be able to get on it easier. I'm 5'7 and the bike is great for me and I'm sure it would accommodate someone taller as well. Well I've had the bike for almost 2 years now and it's a god send. It enables me to get out and do something even though I can't walk. Haven't had any issues with it and the tires hold air very very well in this model in nearly 2 years have only had to add a little air like 3 times.
⭐

⭐

⭐

⭐⭐ "WOW!" - Lazette C.

I searched for months to find an ebike that was right for me. I decided on the Nakto Fashion to get me wherever I need to go. Assembly was very easy, only took me about 20 minutes. I took it out for my first ride and it was amazing. This bike is easy to ride and easy to control, even at top speed. I love it so much!
Frequently Asked Question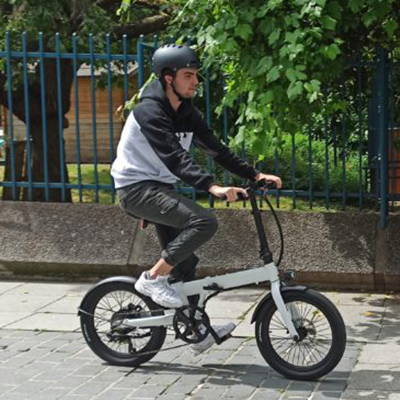 Q: How fast do folding electric bikes run?
A: Generally, folding ebikes can reach speeds of anywhere between 5-25+ MPH. That's a pretty wide range, right? Well, that's because there are wide variety of options.
Moreover, there are a number of factors that go into the top speed of a folding ebike.
Let's take a look at those options and factors to figure out how fast you can go on a folding electric bike:
250w to 350w motors reach speeds of 5-15 MPH.
500w to 750w motors reach speeds of 15-25+ MPH.
The more weight a folding ebike has to carry- especially 16-20" bikes- the lower its top end will be. For example, rear hub motors are weighed down more than mid drives, and can be slower than mid drives.
The less traction your wheels have on the road, the lower the speed will be. This is especially the case for off-roading and riding on loose terrain.
Q: What's the range on folding electric bikes?
A: The range of folding electric bikes is from 20 miles to over 65 miles per charge. And like speed, there are a number of factors that play into the distance you can travel per charge, including...
Battery Size- The larger the amperage of an electric bike battery, the more energy it can hold. That means you can use your battery harder and longer the larger its amps are.
Throttle Usage- The more you rely on your throttle, the more energy you're going to use. This is especially true the longer you ride using only your throttle.
Carrying Capacity- A increase in the weight of a load- from rider weight to anything you're carrying/towing- means an increase in power usage. So the more weight you ask a motor to carry, the faster your battery will drain.
Pedal Assist- Pedellic and pedal assist systems lessen the energy usage of an ebike's motor significantly. The more you can integrate throttle-less pedaling and pedallic use age, the longer you'll be able to travel.
Q: What's the weight limit on folding electric bikes?
A: Folding electric bikes have a weight limit of 223-300+ lbs. It's surprisingly high given such small wheels overall, but there are a few things to keep in mind when thinking of the weight limit on a folding ebike:
Fat tire wheels- which most folding ebikes are equipped with- can hold more weight than standard wheels.
Frame strength adds to how a bike bears the loads. The stronger the frame, the better it can distribute weight and hold more weight.
Q: Can I pedal an electric folding bike?
A: You can absolutely pedal a folding electric bike! In fact, most offer pedal assist options that help build torque and extend your range.
The only issue some riders have pedaling 16-20" folding ebikes is the short strokes they offer. The length of the chain is more compact than on larger bikes. This means there's less power behind each crank, which forces riders on smaller bikes to work twice as hard to pedal the same speed as larger bikes.
That's why most compact folding ebike riders rely mostly on their throttle, as pedaling is more for assistance than actual riding.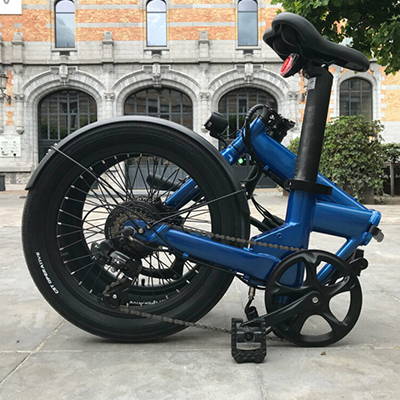 Q: What type of motor do folding electric bikes use?
Folding electric bikes use one of two types of motors: hub drive motors and mid drive motors. They offer their own advantages that help the overall performance of the bike, so let's take a look at what each bring to the table:
Hub drive motors are mounted directly inside of a bike's wheel and have the ability to build upon speed as they drive. Especially in the case of rear wheels, these motors offer the best control over your bike, too. Overall, these are perfect for riders looking for the most speed out of a folding ebike.
Mid drive motors are mounted directly within the cranks of a bicycle. By transferring power from your cranks to your rear wheel, your motor pulls your bike forward in a more powerful but natural way. This is what gives them better torque than mid drive motors, which is great for off-road riders and riders carrying heavy loads.
Q: Do folding electric bikes break easily?
A: While they may seem fragile, the truth is folding electric bikes are as well made as any electric bike. In fact, because of their foldability, these bike often have to go through stricter safety standard than other bikes to ensure their safe operation.
It should also be noted that both parts of a folding ebike are meticulously made. This gives you two extra tough sides of a bike, compared to one long frame that could have weak points. And thankfully with their reinforced locking mechanism, they're able to keep their shape safely without worry of folding in on itself.
So not only will these bikes take the same amount of damage as any other ebike, they may be a little safer and better made, too.
Q: What are the warranties on folding electric bikes?
A: Each folding electric bike on this list comes with a 1 year complete warranty against frame, component, and battery defects. We work closely with ebike manufacturers, so our warranty process is one of the fastest and easiest to complete. And we also offer Lifetime Assistance, helping you figure out the in's and out's of folding ebikes far past your warranty's expiration.
Editor's Note: This post was originally published in November 2018 and has been updated as of September 2021 for accuracy and comprehensiveness.